Ali Akbar's weakly (not protected at all) protected Google Groups Blogbash discussion group claims that American Conservative Union Chairman Al Cardenas will attend blogbash. However Ali doesnt like him or even agree with him. Other high level staffers in the National Bloggers Club think the ACU is not a very good group either. The American Conservative Union are the ones who put together CPAC. And of course the whiny babies at the National Bloggers Club think the ACU is full of shit. However when Chairman Al Cardenas appears, NO ONE WILL BE ALLOWED TO EVEN TALK TO HIM. He is just a figure head who cannot even talk to the actual bloggers according to Ali Akbar.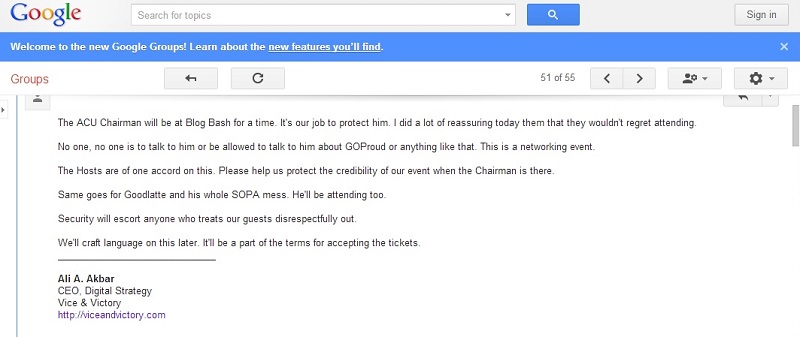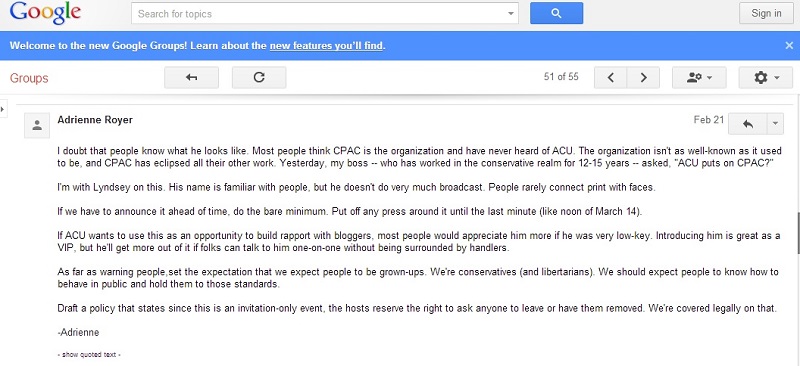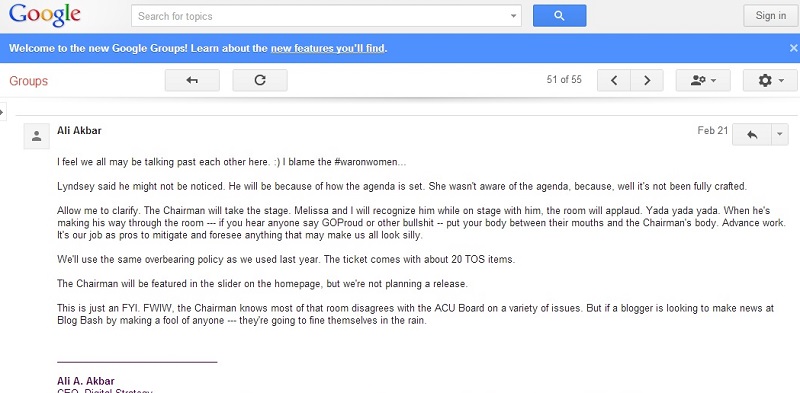 Later in this exchange Ali Akbar says he doesn't even agree with the ACU chairman leading one to ask, does Al Cardenas even know that the guys asking him to attend think he is full of shit?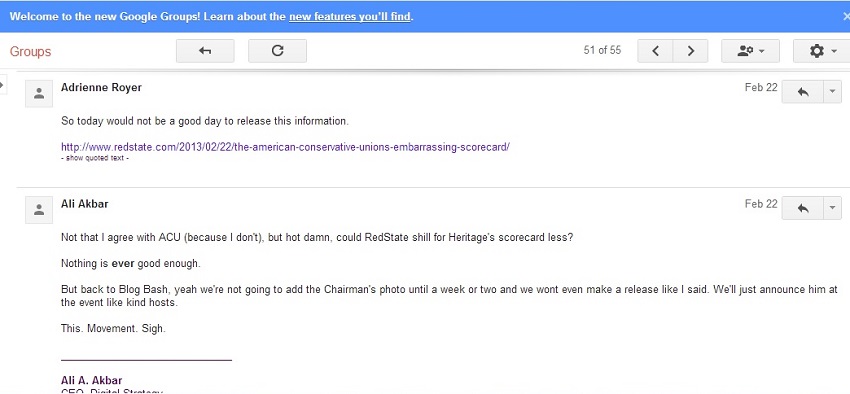 Yes, not that Ali agrees with the ACU, because he doesn't but damn Erick Erickson, could his Redstate website shill for Heritages scorecard less? Do we detect some animosity towards RedState Ali?? But yeah screw em, back to blogbash discussions, the issues of the ACU and its chairman are not important.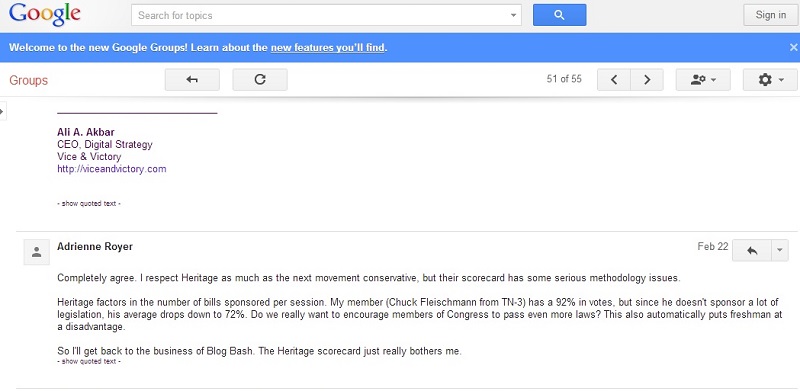 Now as far as teenagers attending a bar at Blogbash, this is not a rumor, this is a FACT.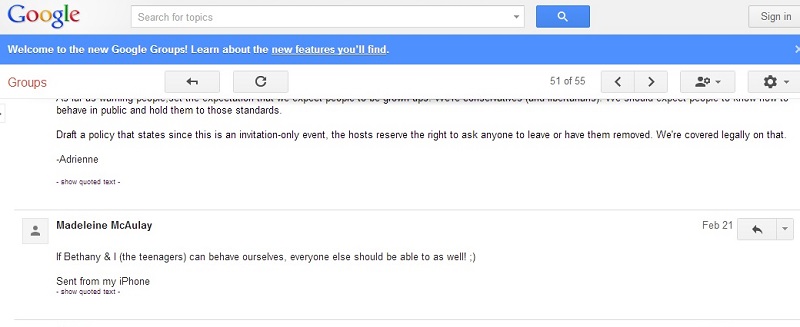 So at least two teenagers will be attending a BAR where alcohol will be served. Note to congressmen who might be enticed to get jiggy with the hot babes at Blogbash, CHECK THEIR IDENTIFICATION with the police. You have been NOTIFIED..
Another funny part is Jeff Dunetz who is exasperated at the entire affair and claims to Ali Akbar he just would rather stay home..
You can read in that post that Michele Fields was contacted to do a hit piece on Brett Kimberlin for Ali Akbar. Funny how Akbar is so concerned about Brett Kimberlin during Blogbash, but the ACU chairman is just meh, back to Blogbash talk. But when it comes to Brett Kimberlin he has to reach out to reporters during all this activity to make sure that something bad is written about Mr. Kimberlin. But I think the funny part was Jeff Dunetz claiming that he is being exposed and or out tweeted on every tweet he makes by the so called bad guys. And because of that, and his wife's brother dying, he would rather stay at home. He hates all this exposure on him, and CPAC just isn't his cup of tea. Well Jeff, BU would like to extend our condolences to your wife's recent loss, and we apologize for ribbing you on your sex fiend issues during this hard time. We didn't of course know until we read this that you had suffered such a loss, so please accept our sympathies when it comes to your loss. Funny though that even during this loss you would abandon your wife at home and attend a conference you actually didn't want to go to, and not only that, you are taking your daughter to it. Hopefully she won't have to see you at your sex fiend worst. Note to Mr. Dunetz, be on your best behavior while at CPAC2013 and Blogbash. Don't let those masturbation urges hit you when you see all the hot babes at Blogbash either. Especially the teenagers, cause you know what teenagers will try to do to you lol. But I am sure you will find a shower or two to relieve yourself.
Other notes, Ali Akbar is hoping to raise 4500.00 dollars from the event. He seems a bit worried he won't be able to raise it and be able to pay off the blogger of the year award which is 500.00 dollars this year, but I am sure with all the sponsors attending if you make that buck work for them as you stated you needed to do with the VIP's attending, then yes I am sure that 4500.00 will be an easy task.

But as for those Tee shirts, well better get them on the cheap.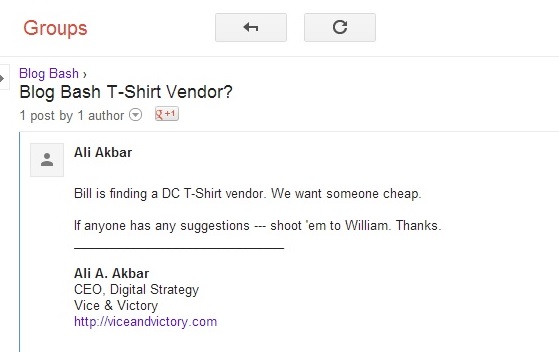 As for those congress members, well you want to make sure they get all the bang for their buck that they can get.
Yes sucking off the VIP's is a hardship Ali, so we understand that they need to be sucked off properly. And who better to suck them off than you eh Mr. Akbar? How about some hooks to keep them in line and make it better for them to attend eh?

And we can't have disappointed donors now can we team Akbar? We have to give 110 percent and more, and all for the great AKBAR. You volunteers always get screwed while backers get sucked off and the head of the table gets more power. That is the way it is..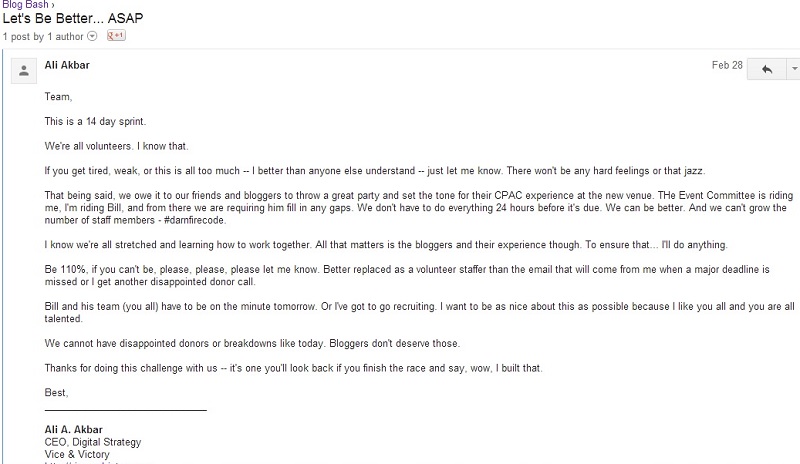 Yes the volunteers get to say wow, I built that, while the organizers get to milk the cash cow and the power that comes with it all the way down the line. As for Fire Codes, Ali Akbar doesn't give two shits, he is going to bust that fire code all the way.
Well folks we have more, hell we downloaded and screen capped every damned post they made, so we will probably have more to tell you down the road about their insider bullshit at Blogbash. But for now we leave you with their master suite they reserved at The Gaylord Hotel. Its Room 2000. Give em a call and tell em hello for us here at BU..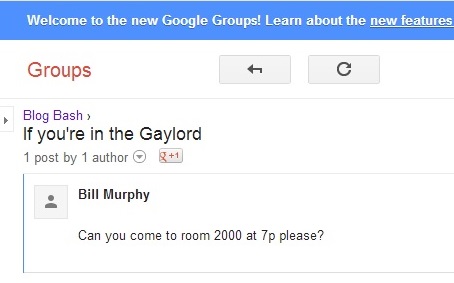 Have fun at Blogbash ya hear….