A spirited debate seems in progress over whether Ali Akbar actually works for the congressional campaign of Curtis Bostic. This coming on the heels of Blogbash 2013 where Mr. Akbar, a convicted felon has tried to establish inroads to the extremist right wing by using his so called army of right wing bloggers to sell himself as a way for campaigns to get their messages out to their base. The problem with Mr. Akbar is that he is a convicted felon who has a long history of ripping people off, breaking into cars and stealing other peoples debit cards, and then using them to obtain money that wasn't his to begin with. He tried unsuccessfully last year to defend these charges by saying it wasn't actually him that committed these crimes, but someone else. BU debunked that narrative just as Mr. Akbar posted it.
It was in fact Mr. Akbar who committed the crimes in question and not some friend. Later Mr. Akbar claimed it was because he was a punk kid who spent his time drunk and didn't know any better. Granted he was a punk kid then, but he is still a punk kid today in our opinion, because he just recently got off probation for these crimes and still goes out and commits frauds on the public. He has also claimed for over a year that he is a 501(c3) organization. The IRS as of last week still has no record of his organization being a registered or even having a "pending" 501(c3) non profit status with the IRS. Last year he got into trouble over these claims and quickly changed his fund raising schemes to reflect that he wasn't a 501(c3) nor did he have a pending status with the IRS as he had told people when he started fundraising on Rally.org. However as of February 25th 2013 when he was putting together BlogBash at CPAC, he again stated he was a 501(c3) status pending, which prompted us to again call the IRS requesting information about his financial status with them. They again claimed they never heard of him nor did he have any paperwork pending with the IRS concerning his status as a 501(c3) or a nonprofit.
This is outright fraud to continue to make this claim, but also fits the narrative when one deals with Mr. Akbar. This is in fact the way he operates which is always on the edge or going over the line legally. I guess he figures no one will catch onto him which is a common criminal's mistake, however here at BU we pay attention to details and facts. So when Mr. Akbar comes a calling people can probably assume that some type of fraud or fraudulent activity will be a part of it. We can't quite figure out why he refuses to admit his past mistakes or why he refuses to tell the truth about his legal status or that of any company he operates. Therefore we have to always assume the worst when dealing with Mr. Akbar. As noted in the image below, he claims again that he has a 501 (c3) status pending with the IRS while inviting people to sponsor BlogBash 2013 or those who were invited to the get together. No telling what he told his sponsors to get that money either. But one thing is for sure, as of last week the IRS still has no record of him filing any paperwork with them. What Akbar states below is in fact a blatant lie, and he has lied about this for over a year which means its outright fraud which he can be prosecuted for federally.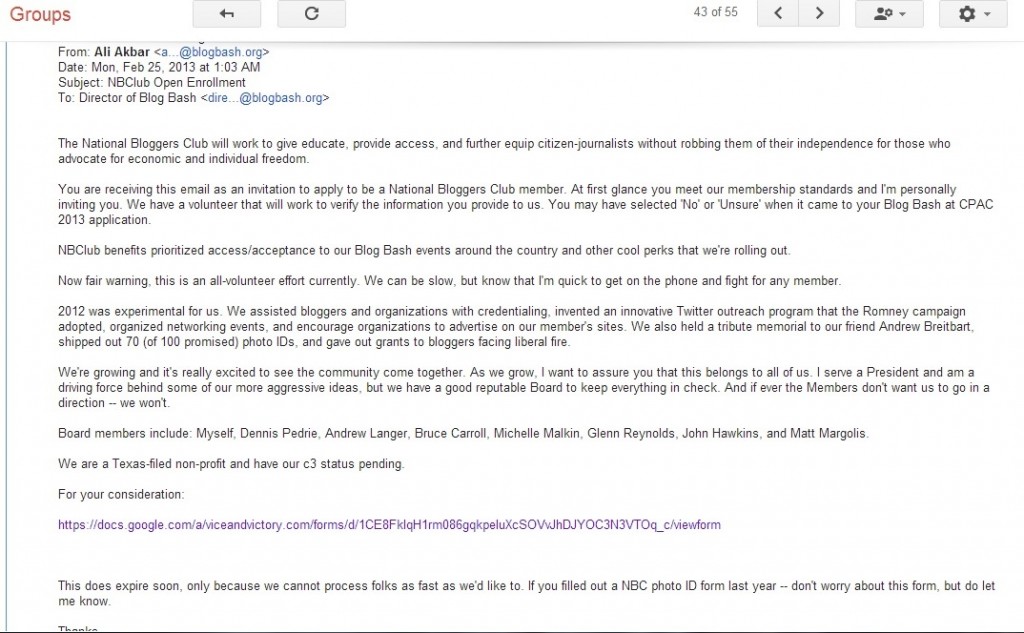 Now comes this new dust up over his support of Curtis Bostic. The Bostic campaign says Mr. Akbar doesn't work for them. Mr. Akbar claims he has a contract with them. The question is who to believe, Mr. Akbar, a known liar or the Bostic campaign, which seems at this point to be wanting to put distance between themselves and Mr. Akbar?
But David O'Connell, who manages Bostic's campaign, told Patch via email: "This person does not speak for the Bostic campaign and any reports to the contrary are erroneous. If he has a contract, it's not with me or with anyone else from our campaign."
If one takes into account the numerous lies that Mr. Akbar puts out there one would probably be inclined to believe the Bostic campaign when it comes to who is telling the truth here. However at this point no one really knows, all one does know is that the Bostic campaign doesn't want anything to do with Mr. Akbar. We here at BU applaud that campaign for its honesty in dealing with this relevant issue. As for the IRS, I am sure they have been looking into the finances of Mr. Akbar and his numerous fraudulent claims of being a 501 (c3). Eventually the law catches up with those that transgress it. In Mr. Akbar's case, one figures that will happen sooner or later. Those who get aboard the Akbar bus will be surprised I am sure when they see just how Mr. Akbar operates and how the IRS operates when dealing with fraudulent claims to being a charity or nonprofit.