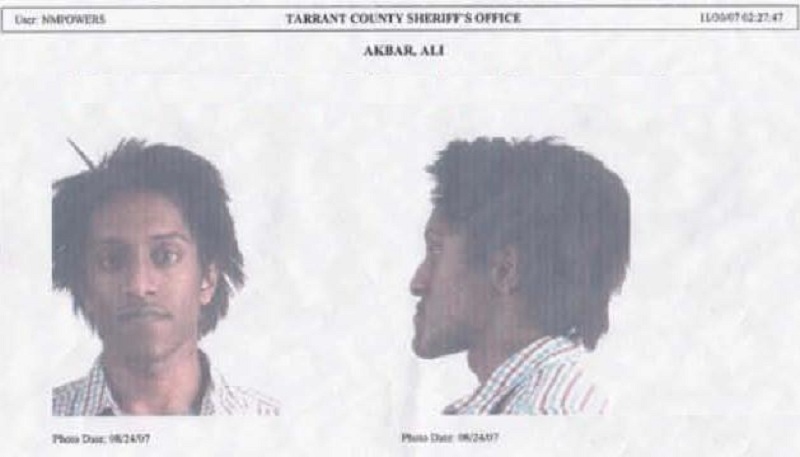 We have been covering convicted felon Ali Akbar's activities for two years at BU. Today, we can report that after a year of trying to get in touch with Akbar, the state of Texas has finally revoked his business license for the National Bloggers Club over nonpayment of franchise taxes.
As we have said before, Akbar is not actually very good at what he does, and his business acumen ends at startup. Akbar loves to throw parties, but he seems contemptuous of the responsibilities of ownership. Having created corporate properties through a lawyer specializing in off-the-shelf business paperwork, Akbar never updated his address with the Texas Secretary of State, allowing his registrations to lapse. The NBC lost its right to transact business in the state of Texas last October, but the NBC has still raised funds in the organization's name to pay for the annual Blog Bash party, which was held again last night at CPAC.
Akbar has also made false claims about his ownership of other properties, then announced co-ownership or partnership with individuals under business names that he no longer actually owned. Akbar's partners are potentially on the hook for unpaid taxes and fines as well as other consequences for their fundraising frauds with Akbar, who they all knew to have a prior record of fraud.
"Team Akbar" has engaged in systematic harassment and/or defamation of everyone who has reported on this story, and even tried to put one of our writers in jail. All of that ends today.
The National Bloggers Club no longer belongs to Ali Akbar
Here is the letter in which Akbar announced the creation of the NBC, asked for donations, and called it a 501(c)(3) nonprofit. In fact, he incorporated the NBC in Texas as a non-profit, and collected donations as a non-profit, but he has never actually applied for legal non-profit status with the IRS.
On February 21st of this year, Akbar lost control of the National Bloggers Club business licence after a year of delinquency. Texas is hardly an anti-business state, so the Secretary of State's office made several attempts to contact Akbar before they ordered the forfeiture. Given all his attempts to dodge legal process, perhaps Akbar thought that he was being clever by never updating his address? Here is the official forfeiture document from the comptroller:
According to the state of Texas, the National Bloggers Club did not belong to Akbar while it was fundraising for the 2014 CPAC Blog Bash party at the organization's Rally.org page. Held last night, and hosted by Akbar associate Bill Murphy, the party featured Texas Governor Rick Perry and Tea Party Patriots President Jenny Beth Martin, also of Texas. We hope the attendees enjoyed themselves, because even though Akbar tried to publicly spin off the franchise, last night's event was probably the last time that any organization called "the National Bloggers Club" will ever hold a party at the premiere conservative conference.
To make things even more embarrassing, Akbar already lost two of his other companies a year ago, but has spent that time conducting business under their names, too.
Vice & Victory Agency has not belonged to Akbar for over a year
In 2012, Dan Backer's Conservative Action Fund gave Akbar's Vice & Victory Agency $44,000, and billionaire Foster Friess also sponsored V&V to the tune of $25,000 at startup. Although we do not know Akbar's receipts for 2013, we do know that V&V was still involved with Akbar's BlogBash party at CPAC in March of last year, and that Akbar continued accepting donations even though V&V was no longer his company. Here is the official forfeiture document from the comptroller.
Vice & Victory Forefeiture
Like the more recent NBC forfeiture, this was only issued after the Texas Secretary of State's office spent a year trying to contact Akbar for overdue fees and taxes. You will note the is dated weeks prior to Blog Bash 2013, an event sponsored by V&V. We do not know yet whether V&V sponsored last night's party, too.
Akbar made false statements under oath about Pundit Syndication, LLC
Last year, our correspondent Bill Schmalfeldt filed a DMCA takedown request against Robert Stacy McCain's web host over some photographs that Schmalfeldt owned and that he believed McCain was misusing. Ali Akbar filed a counternotice in which he claimed ownership of Pundit Syndication, LLC and a business partnership with McCain. Here is that document:
Akbar's DMCA Counter Notice to Schmalfeldt
But Akbar had already forfeited Pundit Syndication, LLC months before he made that sworn statement. Here is the official forfeiture document from the comptroller. It is dated the same as the one for Vice & Victory because the Texas Secretary of State had been trying to contact Akbar about overdue franchise taxes on both companies for an entire year.
This is awkward. When Akbar announced that R.S. McCain was taking over as editor of his ViralRead website and called it a property of Pundit Syndication last March, Pundit had already been someone else's property since the day before. By the time Akbar posted his Pundit Syndication "troll policy" on McCain's blog in August, Velvet Revolution had already owned the company name for five months.
Pundit Syndication belongs to Velvet Revolution
All Akbar's base are belong to Brett Kimberlin
The most charitable explanation Akbar could possibly offer for all of this — the best excuse we think he might possibly muster — is his own utter incompetence, and perhaps even criminal neglect. In letting these licenses lapse, he has allowed his companies to become the property of Brett Kimberlin, who is currently suing Akbar and all his friends under federal RICO law. Mr. Kimberlin will include all of this information in his amended complaint today. He charges that "Team Akbar" has engaged in racketeering activity to conceal fraud, and now he has very compelling evidence that the NBC, like Pundit Syndication and Vice & Victory, is an ongoing fraudulent enterprise.
At startup, each of these companies could be used to create a bank account and start collecting donations under a corporate name. The simplest, but least charitable explanation for Akbar's neglect is that he has not been filing taxes or paperwork on any of these business properties in order to hide the assets accrued in those business accounts from the IRS. As we have reported, Akbar is an associate of the Leadership Institute, which trains conservative activists in "how to beat the IRS." He also ran the Groundswell email listserv that propelled the fake IRS scandal in Congress. We have said all along that Akbar is a feature of the conservative movement, not a bug, and that conservative politics are rife with fraud.
Has Akbar taken his anti-tax belief system all the way to its logical conclusion by evading taxes? We do not know yet, but we look forward to reporting on that question soon enough.