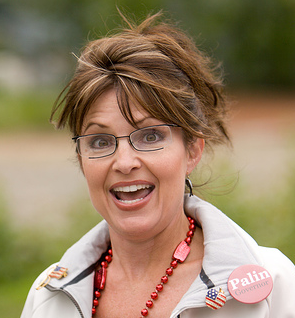 Not content with legalizing political bribery, 'super PAC' lawyer Dan Backer is trying to draft Sarah Palin to run for the United States Senate against incumbent Democrat Mark Begich. In an email for the Tea Party Leadership Fund, Backer claimed that Palin has a "better grasp on world politics" than Barack Obama and claimed that nearly 100,000 people had signed his Palin for Senate petition. Of course, Backer's email came with another plea for donations, giving Andy Kroll pause.
A cynical political observer might wonder if this "Palin for Senate" effort could be more of a fundraising ploy than a realistic attempt to get Palin into the race. Campaign records show that the Tea Party Leadership Fund has so far raked in $3.8 million in the 2013-14 election cycle, and most of that money—almost $9 of every $10—has gone to fundraising, legal fees (to Backer's own firm), consulting, and other related expenses.

But Backer says the Tea Party Leadership PAC has spent so much non-electoral money because it was building its donor lists during 2013, an off year. This year, he says, the PAC plans to be a counterweight to the outside money from corporations and trade associations backing establishment Republican candidates. "We knew this was going to be a tough cycle and a tough year," he said. "You need resources you can put on the ground when you need them."
Call us cynical, but we are too familiar with Backer's history to expect this time will be different. He always champions grassroots conservatives against Republican Party insiders with one hand while supporting those same insiders with the other hand. We will not be surprised if ninety percent of Tea Party Leadership Fund's income continues to be spent on Dan Backer, and even less surprised when Backer avoids all accountability for it. Remember, Backer has been monetizing tea party activism with his friend Todd Cefaratti since 2009, including this campaign to draft Palin.
The Institute for Research & Education on Human Rights' Leonard Zeskind and Devin Burghart reported that TeaParty.net "is largely a list-building money-generating machine. Cefaratti has a background in data harvesting, mining contact information and then reselling the leads to clients in the reverse mortgage industry.

"… Stop This Insanity, Inc., was founded as a political action committee in Arizona in early 2010 by Cefaratti and Ron Dove, who became TheTeaParty.net's treasurer and human resources manager. The PAC was terminated in November 2010, while it was in the process of losing a lawsuit with the Federal Election Commission. It also developed a bad reputation with other Tea Party groups after raising money ($469,000 between January and October 2010), and then not funding rallies or candidates.

"Instead, a significant amount of the funds, $189,759, went to online marketing.
Backer, who loves Washington gridlock, says that Palin will "disrupt" the Senate. He hopes that tea party rubes will exult in visions of Senator Palin making word-salad speeches against Harry Reid and send him lots of money, little of which will likely ever be spent on any tea party insurgent's campaign. Beyond the insane fact that all of this is completely legal, the craziest part is that it always works. The marks want to be bamboozled, and they will reward those who say what they want to hear. In spite of, or perhaps because Palin is unpopular with the larger public, she remains extremely popular among the tea party. There are no laws against using her name to request donations that will never actually benefit her or any other tea party candidate. The conservative Circle of Scam is great work if you can get it.