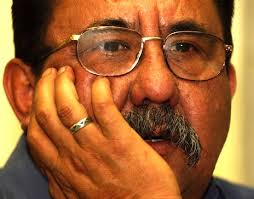 Last week's standoff at Bundy Ranch is still reverberating in Washington today. According to Kate Sheppard at Huffington Post, Raul Grijalva (D-AZ) has sent a letter to Mary Kendall, acting Inspector General for the Department of the Interior, asking her to investigate whether legislation pushed by the Koch brothers-linked American Legislative Exchange Council (ALEC) has been aimed at undermining the agency's work.
Grijalva cites a recent article in The American Prospect that links ALEC to bills in Utah claiming that federal ownership of Forest Service lands violates state sovereignty, and seeking to expand grazing into areas currently off-limits. Grijalva also notes that Bundy spoke at a committee hearing in March 2013 on an ALEC-backed bill in Nevada that dealt with the transfer of federal lands to state control.

"I must say that I am glad to see you people stand for state sovereignty today," Bundy said at the meeting. He went on to cite a portion of Nevada's state code that says the state "has a strong moral claim upon the public land retained by the Federal Government within Nevada's borders.'"

According to the minutes of that committee hearing, Bundy said he did not endorse or oppose the bill, though his comments indicated that he was supportive of the principle. He told legislators, "Let us strengthen that bill and go on and claim this land and our sovereignty."
Two member affiliates of the Koch-supported Americans For Prosperity (AFP) organization gave their blessing as armed 'Patriot' militias showed up to confront agents of the Bureau of Land Management (BLM) doing the dangerous, difficult job of removing Bundy's trespass cattle from federal lands last week. The Kochs have been trying to privatize federal lands in the West for a long time, and Bundy's cause crystallized that issue in a very public fashion.
Although the federal agency was largely able to avoid violent incidents, three people were arrested, including rancher Cliven Bundy's son, and the BLM chose to cancel the operation rather than risk further escalations by armed right wing fanatics. Grijalva's request seems eminently reasonable in that light.