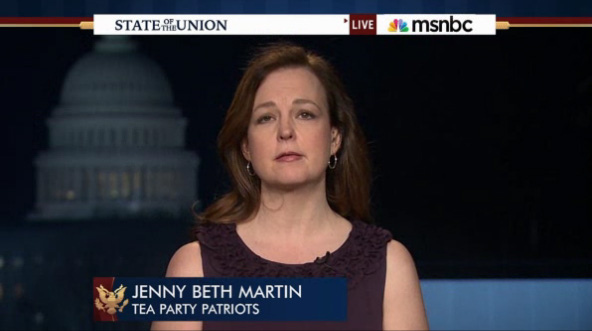 The Washington Post reports that Jenny Beth Martin, president of Tea Party Patriots, received twice as much in consulting fees as her organization's super PAC has spent promoting Matt Bevin, the tea party primary opponent of Senate Minority Leader Mitch McConnell.
Out of the $37.5 million spent so far by the PACs of six major tea party organizations, less than $7 million has been devoted to directly helping candidates, according to the analysis, which was based on campaign finance data provided by the Sunlight Foundation.

The dearth of election spending has left many favored tea party candidates exposed before a series of pivotal GOP primaries next month in North Carolina, Nebraska, Idaho and Kentucky.

Roughly half of the money — nearly $18 million — has gone to pay for fundraising and direct mail, largely provided by Washington-area firms. Meanwhile, tea party leaders and their family members have been paid hundreds of thousands of dollars in consulting fees, while their groups have doled out large sums for airfare, a retirement plan and even interior decorating.

The lavish spending underscores how the protest movement has gone professional, with national groups transforming themselves into multimillion-dollar organizations run by activists collecting six-figure salaries.
Remember, these are the very groups that are supposed to spend money on political activity. We have also reported on 'dark money' tea party nonprofits which are not supposed to engage in political activity, but do. That is not just irony, it is evidence that conservative political organizers have been gaming the system at both ends. Conservative politics were a Circle of Scam to begin with, but the advent of tea party organizing has opened up many new avenues for profitable rule-bending; this revolution has been monetized. And in the world of McCutcheon v FEC, which McConnell argued before the Supreme Court, it can be more profitable than ever.
Martin lives as well as an insider, and flies as high as an insider, but gets to play a movement outsider for tea party activists and the media. She encourages primaries against 'insiders' like Mitch McConnell without ever actually putting real resources behind the challengers, then laughs all the way to the bank — and never gets called out, because all is forgiven when you are fighting those darn liberals again after the primary. It is great work if you can get it.