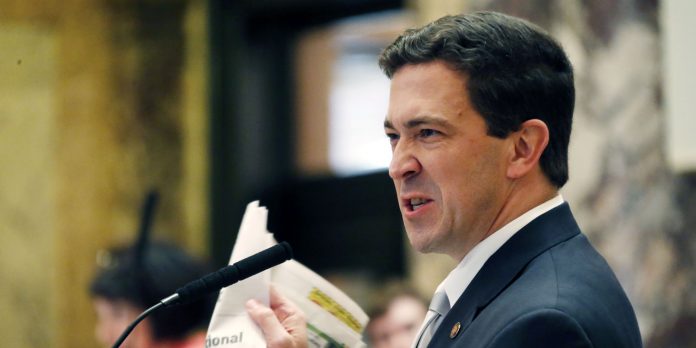 The Republican primary for Mississippi's US Senate seat had already attracted record spending and an unusually high level of interest from outside the state when Tuesday's voting ended in a virtual dead heat. Incumbent Thad Cochran and tea party challenger Chris McDaniel will face a runoff in three weeks, and this round of balloting will attract even more outside interest and money to Mississippi. This race is the tea party's last, best hope to replace a moderate Republican Senator with another Ted Cruz/Rand Paul ideologue in 2014.
FreedomWorks President Matt Kibbe has poured his group's resources into the contest, and we can use their efforts as a benchmark for McDaniel's coalition. The organization's website features a page dedicated to supporting McDaniel where people can download and print various campaign materials — yard signs, door hangars, a 'Retire Thad Cochran Voter's Guide' — or locate one of three "distribution centers" to pick up pre-printed materials. In fact, those distribution centers appear to be the homes of FreedomWorks volunteers. This is the cover of their voter's guide: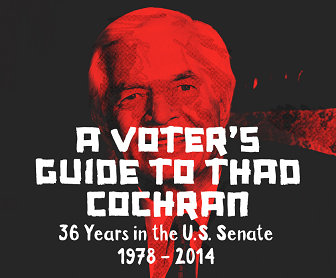 Kibbe also held a special rally for McDaniel a month ago in Jackson. He knows a lot about leading rallies: while standing before a tea party crowd on the National Mall in 2009, Kibbe announced that an astounding two million people were present, even though attendance could not possibly have been larger than about 60,000. After this absurd statement drew ridicule from the mainstream press, FreedomWorks revised the figure down to 'just' 800,000 people, which was still several times the physical capacity of the area occupied by the crowd. The incident provides a good yardstick for everything that Kibbe does to put a populist face on his organization's corporate agenda.
For example, FreedomWorks has always been a friend of the oil and gas industry, and McDaniel's opposition to the offshore drilling freeze that followed the 2010 Deepwater Horizon disaster is listed on their website as a top ten reason to vote for him. Kibbe shows a special fondness for a volunteer named Mike Bostic, calling him a "super activist" in this tweet, but Bostic is not just a FreedomWorks/McDaniel volunteer drawing Kibbe's praise; he is also a retired Shell Oil employee. Allen Page, who is listed as the Executive Director of North Carolina FreedomWorks on the website of the Koch brothers-linked State Policy Network (SPN), is also a Mississippi FreedomWorks trainer. North Carolina has been a model for SPN's efforts to gut environmental protections on the state level, so Kibbe presumably wants Page to replicate that success in Mississippi.
Then there is the money. It has flowed into the Magnolia state like a river at flood stage, overwhelming local television airwaves like low-lying fields. Club For Growth has been the biggest single outside spender in the race, putting some $2.4 million into ads and organization against Cochran. McDaniel has also benefited from more than $1 million in spending by the Senate Conservatives Fund and its political action committee, $700,000 from Tea Party Patriots, and a combined $570,000 from FreedomWorks and Citizens United. Since March 18th, the McDaniel campaign itself has received more than $962,000 — a bit less than what Cochran has received from his big donors, but still more than ten times what McDaniel took in during his entire 2011 state senate run. The difference is not enough to cut McDaniel's million-dollar lead in outside spending, anyway.
With Wall Street on his side, McDaniel is at least as well-off as Cochran and may very well be outspending him. Yet he pleaded poverty just yesterday in the Conservative Intelligence Briefing's email newsletter:
I'll be brutally honest with you: our campaign is almost out of money. We absolutely have to raise $50,000 from grassroots conservatives this week in order to fight back against the attack ads we're surely going to receive.
And Jenny Beth Martin of Tea Party Patriots also pleaded for "emergency" donations to secure a McDaniel runoff victory:
All Thad Cochran and his sleazy supporters care about is power. And they know is that they are about to lose an election to an "amateur" grassroots conservative leader.

Please, make the very best gift you can today.

We have to rent buses to transport volunteers back to Mississippi. We need to get our national phone banks restarted. We need to pay for more ads, flyers, and signs.

Chris McDaniel can and will win this GOP primary runoff if we all get to work right now.

Just click here to make your emergency online donation.
The tea party movement and its conservative allies have united behind McDaniel at the national level. Cochran has considerably less national support infrastructure, and so far he has been unable to put a dent in McDaniel's momentum. Indeed, Cochran's biggest problem is a lack of interest inside Mississippi: his campaign has failed to spark enthusiasm, and he underperformed Tuesday in counties where he should have done much better. Even the highly-public arrests of four McDaniel supporters for a nursing home break-in have failed to slow the insurgent down, which suggests that the new scandal — in which a McDaniel campaign official got locked inside a courthouse where ballots were stored during the wee hours of Wednesday morning — will have no appreciable negative effect, either. The nation's dirtiest political race is not over, and neither is the spending.