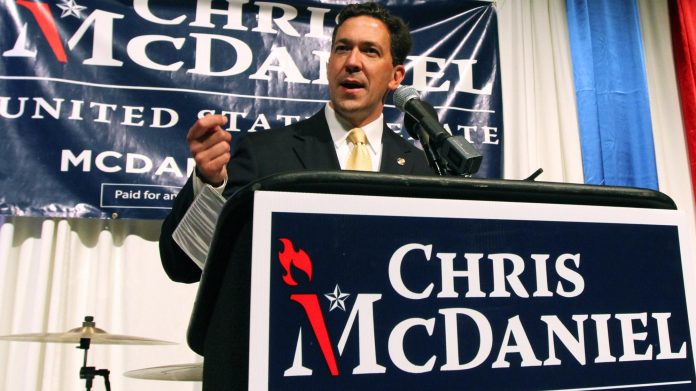 Video: Chris McDaniel and attorney Mitch Tyner held a press conference punctuated by thunder this afternoon.
Fulfilling his promise last Friday to make "a major announcement" today, tea party insurgent Chris McDaniel has decided to forgo a legal challenge and simply ask the state Republican Executive Committee to handicap him 25,000 votes, declaring him the winner of the primary runoff that he lost six weeks ago. As Phillip Bump of the Washington Post makes clear, this strategy change is almost certainly due to the weakness of his evidence:
Democrats voted in the runoff, which, even if it's legal under Mississippi law, is a violation of the party's nominating rules. Given the number of additional votes Cochran received in the runoff — more than a similar increase seen by McDaniel — the campaign clearly plans to argue that many of those votes were from Democrats and should be considered invalid. The McDaniel argument will almost certainly focus on the racial make-up of counties that saw an increase in turnout from the primary to the runoff to bolster its argument, which we can predict both because an early draft of its Rule 11(b) press release was explicit about the racial component, and because, last week, this reporter was contacted by (McDaniel attorney Mitch) Tyner to see if he might serve as an expert witness on the topic. (I declined.)

There are a lot of question marks there and McDaniel's plan requires a lot of dominoes to fall in precisely the right patterns. But McDaniel has never been short on optimism. His campaign still raises the issue of alleged illegal votes, an argument that suffered a blow when their chief witness of vote-buying recanted. (In response to a question, Tyner simply said that vaguely defined illegalities occurred. "Will someone be going to jail?" someone called out from the audience. Tyner demurred.) But it seems unlikely that the executive committee will simply hand a victory to the guy who got fewer votes on election day. In which case, Tyner said, the team was ready to go to court.
Of course, in eight days McDaniel will be taking these sour grapes to the same Executive Committee that unanimously certified the election results, so it's highly unlikely that his "evidence" will persuade them. They know their history, and understand that they would in all likelihood be handing Thad Cochran's Senate seat to Democrat Travis Childers in November if they granted McDaniel's request.
It's also very ironic to hear McDaniel moan and groan about race-baiting given that he did take money from known Klansmen, has spoken to neoconfederate secessionist groups, and that racists actually do seem to love him. McDaniel has spent quite a lot of time, money, and energy trying to reverse the results of an election he very well might have won had he spent just a fraction of that effort on winning African American voters.