Seth Grim, a 21 year old Pennsylvania man, was arrested Friday morning after he crashed the SUV he was driving in West Virginia, littering the road with 30 live chickens, according to the Charleston Gazette.
Police say Grim wrecked when a dog riding in the Ford Explorer with him tried to jump out the window. (Can you blame the poor pooch, crammed in the back of an SUV with 30!!! chickens?) He was apparently on the run from law enforcement in his home state of Pennsylvania.
Upon inspection, police discovered that the Ford Explorer was carrying marijuana, improvised explosive devices, a large amount of ammunition and two "AK-47-style rifles". When arrested, Grim told the police he is a "sovereign citizen," one of the fastest growing home-grown terror movements in the US, according to the FBI.
Grim was charged with possession of marijuana and intent to distribute, and there are unnamed federal charges pending investigation.
Animal control picked up the chickens, but sadly, the dog didn't make it.
Seth Grim's Facebook page has some clues to his mindset. He's a big fan of New World Order conspiracies, conservative shock jock Michael Savage, and Ron Paul. He believes in the Illuminati and promotes 9/11 truther videos.
In 2012, he offered money for information on an unknown doctor.

In March this year, he posted an ominous threat to the police. It's not clear if his friends and family did not take him seriously, or if they simply agreed with him. (They seem to agree with him.)
The final post on Grim's Facebook page, on August 7th, seems to allude to a bad encounter with the police. He signs it off "ftp" which is short for "fuck the police." A lot of the postings on his Facebook page reflect a similar anti-government, anti-police sentiment.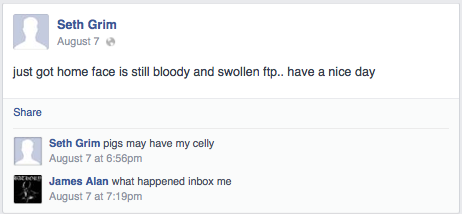 Authorities don't seem to quite know what Grim planned to do with all the stuff in his truck, but I'm sure we'll hear more about it as the state and federal investigations unfold.
After his arrest, Baylous said, Grim told police he is a "sovereign citizen." – See more at: http://www.wvgazette.com/article/20140822/GZ01/140829754/1101#sthash.7fOF1JhU.dpuf
Grim was arrested and charged with possession of marijuana with intent to deliver. – See more at: http://www.wvgazette.com/article/20140822/GZ01/140829754/1101#sthash.7fOF1JhU.dpuf