Yesterday's two school shootings at high schools in North Carolina and Kentucky indicate that there's still plenty of work to do when it comes to strengthening gun laws in America, and the rash of gun violence in our schools isn't going away. Yesterday's shootings – only hours apart – were the 85th and 86th school shootings since the mass shooting that took place at Sandy Hook Elementary School nearly two years ago, according to Everytown for Gun Safety, who chronicles all incidents of gun violence that takes place on school property.
The shootings occurred on the heels of a new report from the FBI on the increasing number of 'active shooter incidents.' Unlike Everytown, the FBI report looked specifically at events where "individuals actively engaged in killing or attempting to kill people in populated areas." (Not every school shooting is tied to a shooting spree; often shootings in school involve a single target.)
Here's what "active shooter" violence, on the uptick, looks like in the past 13 years: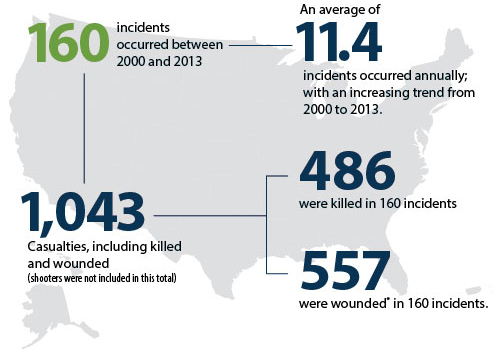 The study, titled "A Study of Active Shooter Incidents in the United States Between 2000 and 2013" contains a full list of the 160 incidents that ahve been classified as "active shooter violence", including those that occurred at Virginia Tech, Sandy Hook Elementary School, the U.S. Holocaust Memorial Museum, Fort Hood, the Aurora (Colorado) Cinemark Century 16 movie theater, the Sikh Temple of Wisconsin, and the Washington Navy Yard, as well as numerous other tragic shootings.
The study found that active shooter incidents are becoming more frequent—the first seven years of the study show an average of 6.4 incidents annually, while the last seven years show 16.4 incidents annually. The number of casualties and injuries trended upwards.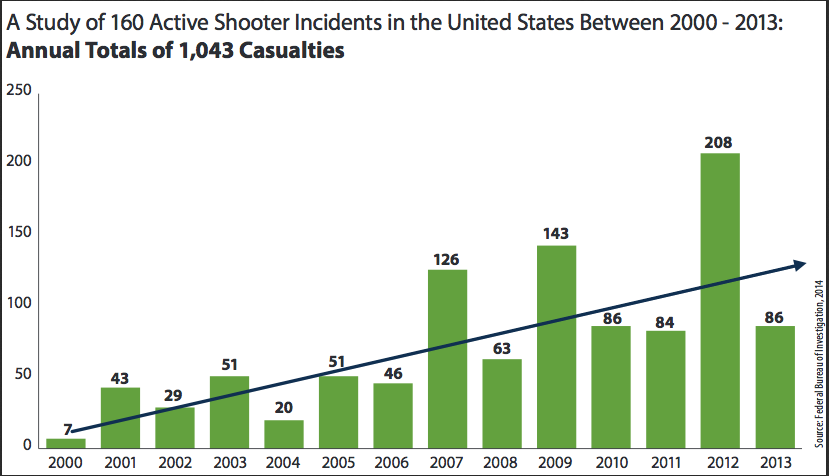 Total, these incidents resulted in a total of 1,043 casualties (486 killed, 557 wounded—excluding the shooters). In 21 of the 45 incidents where law enforcement had to engage the shooter to end the threat, nine officers were killed and 28 were wounded.
The FBI also found that the largest percentage of incidents—45.6 percent—took place in a commercial environment (73 incidents), followed by 24.3 percent that took place in an educational environment (39 incidents). Active shooters who are under the age of 18 are, of course, more likely to target environments that they share with their peers.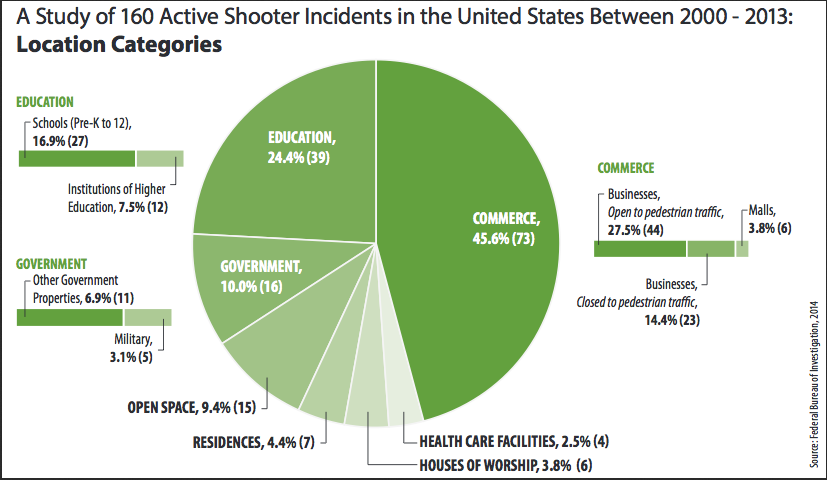 Shannon Watts, founder of Moms Demand Action for America said of the shootings yesterday, "My heart goes out to those affected by these shootings in North Carolina and Kentucky. Last year we started counting shootings in American schools. The list hit 36 in 2013 and so far it stands at 50 in 2014. We should all be asking our leaders to do everything they can to prevent the next tragedy – the NRA's solution to arm teachers and students isn't an answer."
[Image Credits: All charts courtesy of Federal Bureau of Investigation]