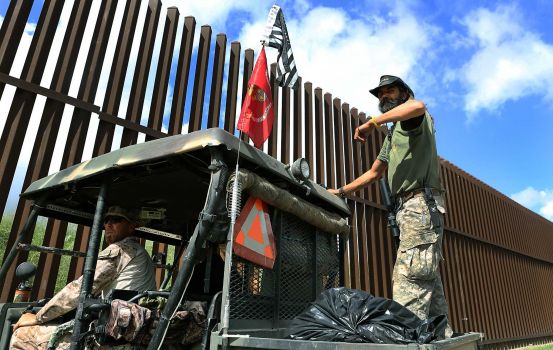 Two more of the American Patriots group have been arrested on the Texas border for charges ranging from felons in possession of a weapon to charges of making a false report about ownership of seized weapons. Agents with the Bureau of Alcohol, Tobacco, Firearms and Explosives arrested John Frederick Foerster on charges of being a felon in possession of weapons, according to a spokeswoman for the U.S. attorney for the Southern District of Texas. According to news reports Foerster has a long history of run ins with the law.
Foerster has a history of run-ins with the law, including an arrest by Brownsville police on Feb. 14, 2001, on three counts of burglarizing a building, a state jail felony punishable up to two years in prison, according to arrest records. The offenses took place March 22, 1999, Feb. 13, 2001, and Feb. 14, 2001. He pleaded guilty to all three charges in May 2001 and served part of his sentence in Cameron County before being transferred to prison. He was released from prison on Aug. 9, 2002, records show.
Foerster was also arrested on charges of possessing a switchblade and knuckles, a Class A misdemeanor punishable up to a year in prison, and pleaded guilty to those charges. He was sentenced to 180 days in jail. And in 2009, Foerster was arrested in Missouri City on theft charges.
The Patriots latrine headquarters, which they call Camp Lonestar, has been having trouble as of late with local and federal law enforcement as well as local townsfolk who see the armed patriots as somewhat of an oddity. Most Patriots do not know the local town they take over inhabit or its customs, and the Patriots who come from other states often have run ins with the locals who don't really appreciate their gun toting presence in their community. Looking at pictures of these Patriots its easy to see why. They look like hillbilly mountain folk who are broke and or homeless and have nowhere else to go.
Kevin Lyndel Massey (seen above) was arrested on a federal weapons charge on Monday. According to news reports Massey, who is from Quinlan Texas has been a vocal member of the American Patriots group in Brownsville Texas for the past several weeks. Massey was also arrested as a felon in possession of a weapon.
Massey was convicted of burglary in 1988. He was denied bond during an initial federal court appearance Tuesday, and is scheduled to appear before a grand jury Friday in Brownsville. Massey's family posted on Facebook that agents had also seized weapons in his North Texas home.