A demolition contractor hired by the city of Orlando is in hot water after footage surfaced of a worker firing an assault rifle inside the building they were supposed to be demolishing.
The building, also known historically as the American Federal Building, is a large, round seven-story office building with hundreds of glass windows located at a busy intersection in downtown Orlando. It is located close to several other large office buildings with windows facing the structure.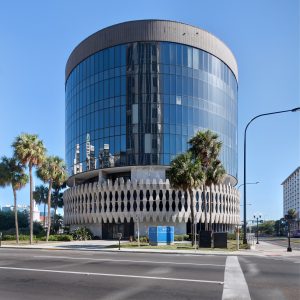 The contractors, who work for a company called Crusader Contracting, were slated to demolish the structure in order to make room for the Dr. Phillips Center of the Performing Arts.
According to a report from WESH-TV, a unnamed whistle blower captured the footage of his manager shooting the assault rifle and took it to Orlando city leaders, telling them in a note that his boss, "had many guns on the jobsite (sic) and would frequently shoot things in the basement and other areas in the building." The Orlando Police Department spokesperson said detectives, "Are still working to figure out charges, if any. At best, they will have Improper Exhibition. Punishable by up to 1 year in jail."
Zach Hudson, a police officer for 30 years who now runs a security-related business called Defensive Tactics Solutions, told WESH-TV that the man who fired the gun is very lucky:
"[It is] very, very foolish. He is lucky he didn't kill somebody," Hudson said. "This is a military grade weapon. This is a round designed to travel up to 800 meters. You are talking about a round that can go through concrete…"

Hudson said the rapid fire suggests the AR-15 may have been modified into an automatic weapon.

"If those weapons has been modified in any way that becomes a federal crime," Hudson said.