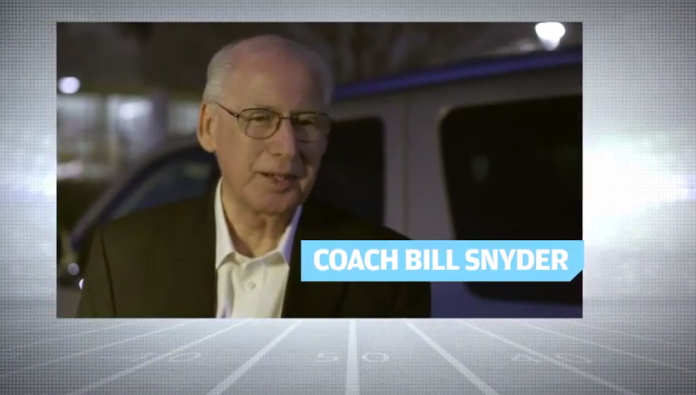 UPDATE: Sen. Roberts's campaign is letting the ad run end tonight.
The commercial was to complete a run through the weekend in accordance with a schedule set by Roberts' campaign, despite a personal, public appeal Saturday from Snyder and a previous request from university officials that the three-term Senate Republican stop broadcasting the spot in Kansas.
At a news conference after yesterday's game, Coach Snyder's story diverged from the ambush scenario.
"I made a mistake," Snyder said. "I'm not going to delve into exactly how everything happened, but I made a mistake and I embarrassed the university and that's my responsibility and that was my error."

When asked whether he wanted Roberts' campaign to cease distribution of the ad, the coach said, "Yes."

Corry Bliss, campaign manager for Roberts, said Snyder's comments didn't mean the football coach retracted his endorsement of the GOP senator.

Bliss repeated an assertion the Kansas State president falsely claimed the senator's campaign was asked by a university administrator to remove the advertisement from TV screens.

"Senator Roberts is proud to have Coach Snyder's endorsement and it's sad that Greg Orman's liberal allies in the administration have engaged in a campaign of misleading press leaks and bully tactics," Bliss said.

He was referring to public disclosure of the email memorandum from Schulz to KSU governance members providing detail of internal debate at the university and the athletics department about Snyder's participation in the ad.

In response to the suggestion Snyder was tricked into filming an endorsement, Bliss said the video was shot last week at a time and place convenient for Snyder and acceptable to Roberts.

"The ad was filmed Tuesday at an agreed-upon time and location after Senator Roberts asked for, and received, his longtime friend's public support," Bliss said.
So basically, Roberts's campaign is defending the ad by saying that Snyder violated state law, university policy, and the terms of his contract — while Snyder is just shrugging like he didn't know what he was doing.
ORIGINAL POST: It all started on Thursday with a new ad from the campaign of embattled incumbent US Senator Pat Roberts — the one you see above. As the Kansas City Star reports:
Beloved Kansas State University football coach Bill Snyder on Thursday endorsed Sen. Pat Roberts for re-election and is appearing in a new television ad for the three-term Republican incumbent, potentially giving the GOP a boost in a race with national implications.

Roberts' campaign launched the statewide spot just five days before the election, which has Roberts locked in a tough contest with independent candidate Greg Orman, a 45-year-old Olathe businessman and co-founder of a private equity firm.
But it turns out that political endorsements are a violation of Coach Snyder's contract (.PDF) as well as state law and Kansas State policy. According to an email sent out by Kansas State University President Kirk Schulz, Snyder
was unaware it was going to be used in such a fashion and was apologetic for the resulting issues.

I asked Sue Peterson, as Director of Governmental Relations, to ask the Pat Roberts re-election campaign to withdraw the video and not use it any further.  They declined to honor our request.
The implications here, at least as understood by everyone talking about it, are that Snyder thought his words were for 'internal use only' by a friend's political campaign, and that Roberts chose to use the recording on radio and TV regardless.
Is the terrorism-obsessed Senator so desperate to dig out of his electoral hole that he would burn bridges at his own alma mater? Larry Weigel of Republicans for Kansas Values says as much:
As a former Executive Director of the Kansas State University Alumni Association, I encourage all K-Staters to contact Mr. Roberts, even if you support him, and remind him of the potential damage he is causing to our University by not complying with President Schulz's request to stop showing the video.
KC Star is still trying to confirm this story, which the Roberts campaign is denying:
Roberts spokesman Corry Bliss called the leak of the memo "peculiar." He said the campaign had not been contacted by the university.

University officials were unavailable to confirm its authenticity Friday night.

In Friday's edition of K-State Today, a campus publication, Schulz reminded readers that the university does not endorse political candidates.

"Employees do not speak for the university when they endorse candidates," Schulz wrote. "Employees should also avoid using their university affiliation in any endorsements or statements."
We will update this story as it develops.
When The News initially asked Roberts' campaign manager, Corry Bliss, if the campaign would pull the commercial, Bliss said he wasn't sure what The News was referring to.