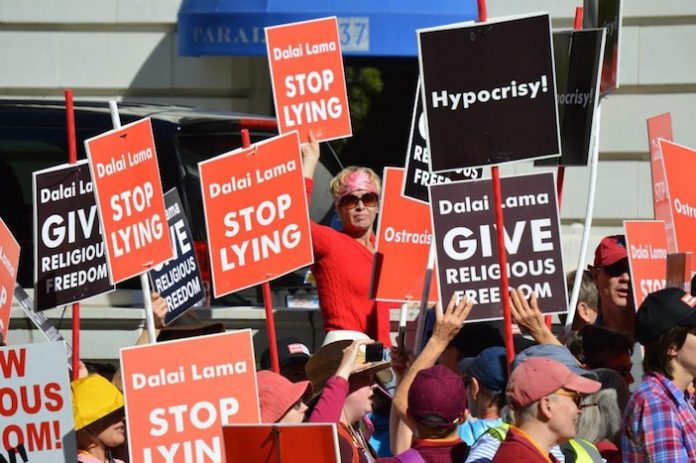 Over 500 protesters plan to converge on New York City during the Dalai Lama's visit to protest what they call his policy of religious discrimination and human rights abuses.
The protests are organized by the International Shugden Community (ISC) who staged demonstrations earlier this week during the Dalai Lama's visit to Birmingham, AL and Princeton, NJ.
The protesters say that the Dalai Lama publicly banned a 400-year-old mainstream religious tradition of making prayers to the Buddhist Deity Dorje Shugden. They say he is the responsible for an "aggressive persecution campaign" affecting millions of people worldwide, resulting in suffering and human rights abuses — including the practice of segregation.
The protesters says the people of Shugden faith are refused entry to many businesses. Signs have gone up in shop windows, restaurants and medical facilities in Tibetan exile communities. Banning the practice has become a way for businesses to blatantly discriminate against the small religious sect, the ISC explains.
"The Dalai Lama needs to bring an end to the suffering caused by his sectarianism and religious intolerance. Millions of Shugden Buddhists lived happily with other Buddhists and practitioners of other faiths for centuries until the Dalai Lama's sectarian ban. With these protests, all we are asking for is the freedom to practice our religion in peace. We do not ask that he likes or practices our religion but that religious freedom should apply equally to all people," said ISC spokesman Len Foley.