What's the first thing you think of when shopping for holiday clothes with your kids?
Certainly not using Christmas to fat-shame them or extoll the virtues of a "fat" wallet.
A Dillards store in Florida caused a bit of a stir when they placed the ill-chosen sign in the girl's department alongside the holiday wear: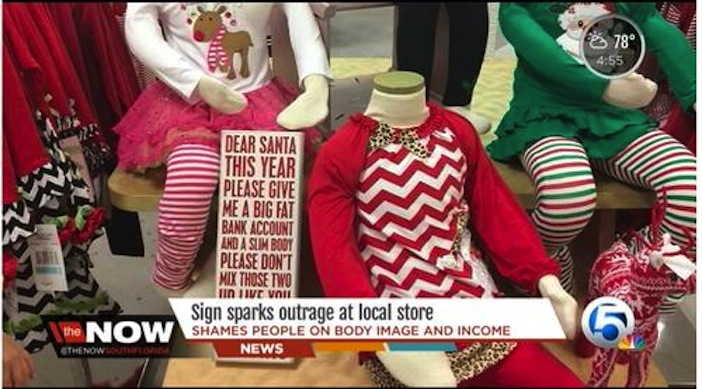 "Dear Santa, This year please give me a big fat bank account and a slim body. Please don't mix those two up like you did last year. Thanks."
Sally Stewart, who posted the image on Facebook, told WPTV, "It gives the wrong message about having a slim body. That's not the message we want to give our kids."
The photo was shared over 400 times before it was picked up by local media, who were able to call it to the attention of the corporate office. Dillard's told WPTV that the sign was put in the Girls department in error, and directed all stores to remove the sign from sales floors entirely.
[Image Credit: Screenshot/WPTV]