He helped was part of a scientific all-start team that was able to  build the technology for a mission with the first successful landing on a comet, but Dr. Matt Taylor's fame may be tied more to his poor choices in attire than his scientific acumen.
The space scientist broke down in tears today as he apologized for his unfortunate choice of clothing when he sat for an interview with the rest of the team — wearing a shirt bearing images of sci-fi sexploitation-style, hyper-sexualized women in bondage gear, brandishing guns.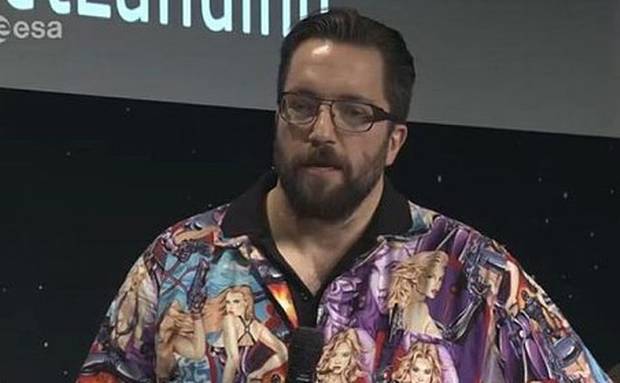 In recent days the heavily-tattooed London scientist had enjoyed a burst of public admiration and fame for his work on the mission. But the shirt changed things for many women, who felt that the shirt was alienating to women involved in STEM. (Science, Technology, Engineering and Math professions.)
STEM careers are traditionally dominated by men, and nothing says male-dominated more than wearing a shirt sexualizing women for a presser.
No no women are toooootally welcome in our community, just ask the dude in this shirt. https://t.co/r88QRzsqAm pic.twitter.com/XmhHKrNaq5

— Rose Eveleth (@roseveleth) November 12, 2014
The Verge breaks down how casual misogyny makes its way into professions in the science field, and some of the long-term ramifications for women who can be made to feel that there's no place for men in these industries except when baring all on a shirt on across an important (male) scientists' chest:
This is the sort of casual misogyny that stops women from entering certain scientific fields. They see a guy like that on TV and they don't feel welcome. They see a poster of greased up women in a colleague's office and they know they aren't respected. They hear comments about "bitches" while out at a bar with fellow science students, and they decide to change majors. And those are the women who actually make it that far. Those are the few who persevered even when they were discouraged from pursuing degrees in physics, chemistry, and math throughout high school. These are the women who forged on despite the fact that they were told by elementary school classmates and the media at large that girls who like science are nerdy and unattractive. This is the climate women who dream of working at NASA or the ESA come up against, every single day. This shirt is representative of all of that, and the ESA has yet to issue a statement or apologize for that.
Astrophysicist Katie Mack told reporters earlier this week, "I don't care what scientists wear. But a shirt featuring women in lingerie isn't appropriate for a broadcast if you care about women in science." During a press briefing this afternoon on the progress of the Rosetta mission, Dr. Taylor appeared visibly upset and struggled to speak. Eventually he said: "I made a big mistake and I offended many people and I am very sorry about this."      
People make mistakes. It's important to own up and talk about them. Let's make STEM an open, welcoming place for women. #shirtstorm — Rachel Feltman (@RachelFeltman) November 14, 2014
Thank you for your heartfelt apology, @mggtTaylor. I know you only had a brief moment to say anything. More later? #shirtstorm

— Karen James (@kejames) November 14, 2014
And for the most part, it seems, his (rather short) apology was accepted. The question remains — was a lesson actually learned? Maybe.
Some dudes really get it. 🙂  
Day 6571 as a scientist. STILL not wearing shirt demeaning to women. How long can I keep this up?! #shirtstorm pic.twitter.com/6s9fVSJ3Dc — Steven Theiss (@Theiss9030) November 14, 2014