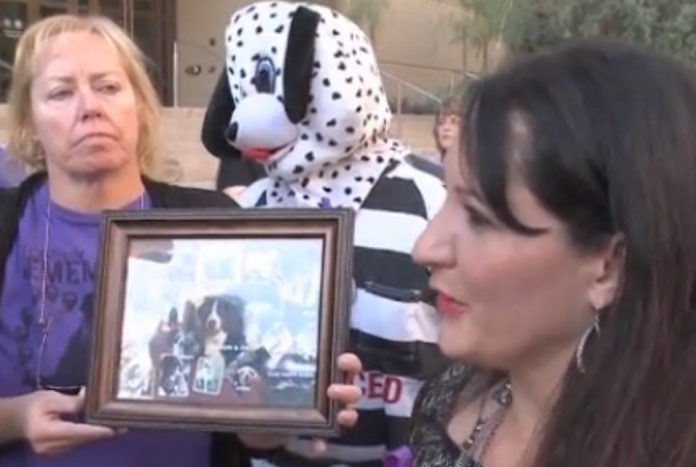 Austin Flake, the son of U.S. Senator Jeff Flake (R-AZ), pleaded not guilty Thursday to the negligence causing the death of 21 dogs.
Flake was charged alongside his wife. They were each arraigned and charged with 21 felony counts and seven misdemeanor counts of cruelty to animals. The couple is accused of neglecting nearly two dozen dogs. The dogs were staying at a vacation kennel owned by his in-laws, and he and his wife allegedly allowed them to suffocate and die in a small, overheated room last June.
More than a dozen dead animals were piled in a tool shed.
"Some had been wrapped in blankets and left in front of the house," reported the New York Times.
Green Acre Dog Boarding apparently had customers that only hosted a few dogs at a time. The couple had been watching the dogs for Logan's parents, MaLeisa and Jesse Todd Hughes, who were on vacation in Florida. (They, too, have been charged with with 22 counts of felony animal abuse, for not properly maintaining the air conditioning in the room where the dogs eventually died.)
The owners told police that the animals died of heat exhaustion after one dog chewed through the air conditioner's power cord, but Maricopa County Sheriff's investigators reportedly found no evidence that a chewed-up wire was to blame.
"We were deceived from the moment we dropped our dogs off here, and I believe they were con artists," Shannon Gillette, whose two golden retrievers died at the facility, told AZFamily.com. "They were our family, and they were killed by these people."
"I'm so sickened by them saying it was an accident," said Valerie Collins, who also lost two dogs due to the situation. "There were still dogs alive for four hours. For four hours they didn't get any help, and then they just let them die slowly."
The Flakes reportedly tried to save the animals when the realized they were dying, but it was too late. They tried hosing and icing them down, but authorities said they didn't call for emergency assistance, and the animals needed professional veterinary care.  They started piling the dead bodies.
A veterinarian who performed autopsies on some of the dogs said they likely suffocated to death in the 8-by-12-foot room where they were kept.
More than 20 dogs were found dead or injured at Green Acre Dog Boarding near Greenfield and Queen Creek roads on June 21.
Sheriff Joe Arpaio's office headed up the investigation. He said the case was one of the most complicated his office ever had to investigate, and that the owners of the dead dogs kept after him to investigate. The incident has left the community heartbroken.
The lawyer for the Flakes say that the whole thing was an awful accident, and they will prove it in court.
[Image Credit: Screenshot/AzFamily.com]