A newly elected Tea Party Republican, Rep. Steven Kraus, has been indicted by an Ottawa County grand jury on felony charges of burglary, breaking and entering and theft.
Police say that the 55-year-old  took antiques, a shotgun and musical instruments from a home in Port Clinton earlier this year. (He also happens to make a living as an auctioneer.)When questioned by police, he claimed a real estate agent selling the house had asked him to remove the items and inventory them for auction.
Police say witnesses took photos of Kraus taking the items from the home.
The grand jury apparently did not believe him. "I'm innocent of all charges and I will vigorously defend them," Kraus told the Register.
Kraus only cast his first vote a few weeks ago as a state representative.
He's a Tea Party politician who's against green energy and the EPA. He wants to lower the drinking age in Ohio, shills for the dirty energy industry regularly on his Twitter account,  and is against gay marriage. (You know, the usual Tea Party Republican hobbies.)
Here's a few gems from his now-super-quiet Facebook page: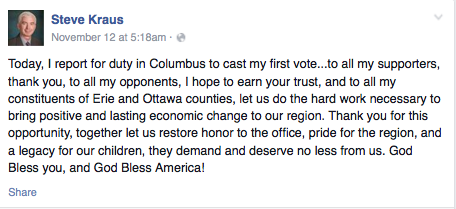 and of course,  just so you don't feel bad about the schadenfreude: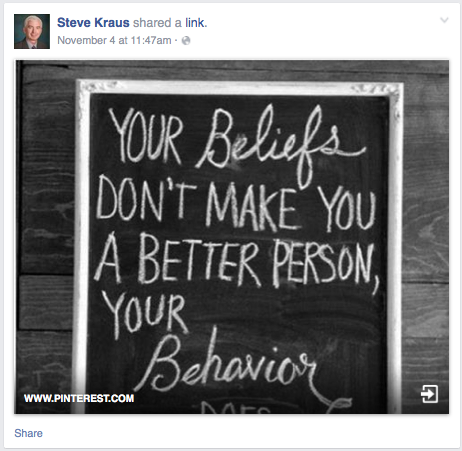 [Image Credit: Steve Kraus / Facebook]