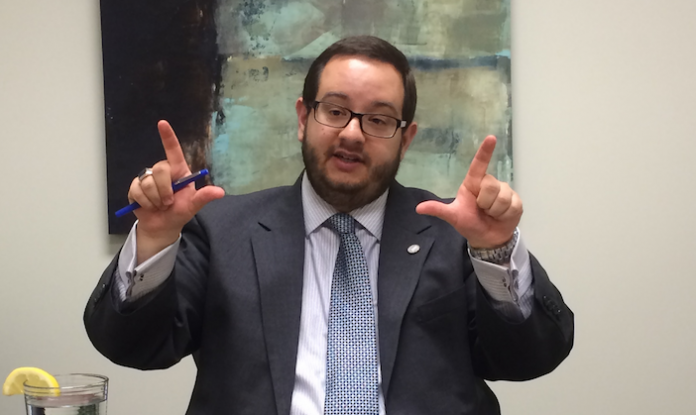 27-year-old Kyle P. Adams, a political consultant and former head of the Hampton Republican Party in Newport News, Virginia, was charged on Wednesday with several crimes related to impersonating a police officer.
The charges of  two counts of impersonating a police officer, two counts of abduction, and two counts of use of a firearm in commission of a felony stem from an incident that allegedly took place on Tuesday afternoon. A 33-year-old man and a 30-year-old woman told police that a man who identified himself as a police officer detained and searched them, according to The Daily Press. The man then fled the area in a dark-colored SUV.
This is not Adam's first brush with the law.  In fact, when Adams served as aide to former Hampton City Councilman Chris Stuart, he was caught embezzling money from his boss's company,  Top Guard Security Inc.  He entered an Alford plea — meaning he accepted consequences of the crime without admitting guilt. Adams was charged with just one count of felony embezzlement from Top Guard. Later investigations found Adams had actually embezzled another $7,970 in late 2011 and early 2012, according to a "stipulation of facts" agreed to by both sides.
You would think that the arrest would have made him unemployable in the field of politics, but apparently that doesn't faze Old Dixie Republicans.
Most recently, Adams apparently worked for Gary C. Byler's campaign for delegate. He was named alongside Gerald D. Scimeca, businessman and party operative Curtis D. Colgate, and campaign manager Austin Chambers in a lawsuit last March for what his opponent described as defamation.
Adam's political consulting firm describes itself aptly, bearing a rather amusing anonymous endorsement from the Hampton City Council: "Kyle Adams is the 'Karl Rove of Hampton'."
I wonder if he was up to some dirty political tricks, or was this just your average-run-of-the-mill police impersonation? Twitter holds a clue to his mindset:
"War has rules, mud wrestling has rules – politics has no rules."

— Kyle P. Adams (@kylepadams) September 26, 2014
Hopefully more will be revealed.
[Image Credit: Kyle P. Adams And Associates]