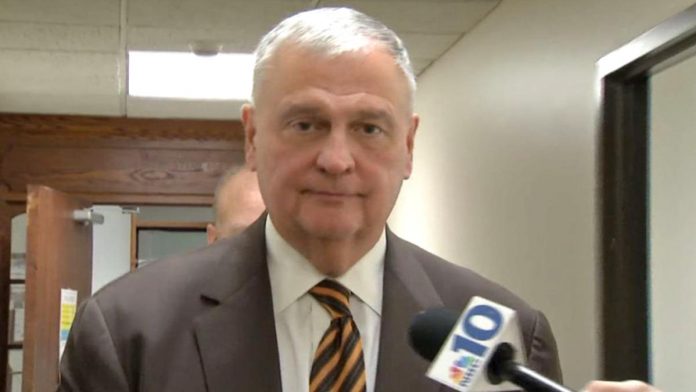 Robert J. Kerns, the former head of the Montgomery County Republican Party in Pennsylvania, ended up taking a plea deal for sexual assault charges after facing his victim in a Norristown court and "hearing of the devastation he caused her family," according to Philly.com:
Robert J. Kerns, 67, waived his right to trial and accepted the negotiated "no contest" plea deal, which keeps him out of jail but gives him two years probation and places him on the books as a registered sex offender for the next 15 years.

In addition, Kerns received a $500 fine and was ordered to pay restitution.

"What the defendant did to me rocked my world and rocked my family's world," said the victim, a thin, petite woman in her early 50s who worked at Kerns' law firm at the time that she alleged he drugged and raped her in Oct. 2013.

"It took a lot for me to come forward because I was so distraught," she added. "I didn't think I could go up against someone having the status of my offender. I can't tell you how many times I have wondered, 'How many other women?' "
Kerns had faced two counts of aggravated indecent assault without consent, two counts of indecent assault without consent, one count of indecent assault of an unconscious person and one count of simple assault.
His defense attorney claims he took the plea deal because he wasn't guilty. Because of course that makes sense:
"This entire case began with false accusations of rape and date rape and drugging. Mr. Kerns' decision today to end this with a no-contest plea to a misdemeanor was really just a recognition that he didn't want to put two good families through the ordeal of a very contentious trial," said defense lawyer Brian McMonagle.
Kerns had previously been charged with drugging and assaulting his young staff member at his law firm's Halloween party in 2013.
[Image Credit: Philly.com]