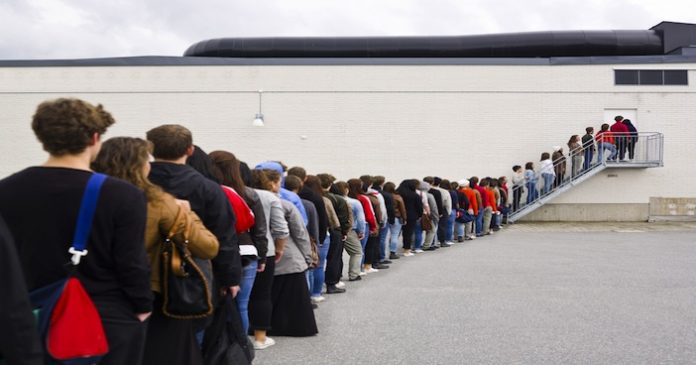 Robocalls that went out to election judges in Chicago did more than sow a little confusion on Election Day  — the shortages left some polling spots unable to accommodate voters, and those voters deserve answers about the reason their right to vote was essentially taken away.
A myriad of factors caused delays in voting across the city — one of them being a shortage of election judges reporting to work in their precinct, including no Republican judges. The judges didn't show up, in many cases, because they were given bad information in a robocall, causing close to 2,000 of them to not show up on Election Day:
"This is your Chicago election judge coordinator Jim Parrilli," began the automated robocall that went out on Halloween. "I'm calling to let you know that tomorrow, Nov. 1, we are having an additional training at our headquarters from 2 p.m. to 4 p.m."

"Beverages will be served. We will have people there to answer any question you might have about your responsibility as election judge on Tuesday, Nov. 4."

But those words, Chicago election officials contend, were part of a "serious attempt to disrupt the voting process" that has touched off at least one criminal investigation and prompted Mayor Rahm Emanuel to demand answers.
The phone calls were tied to to wingnut birther Sharon Meroni, who considers herself a one-woman crusade against voting fraud in Illinois, and her accomplice Jim Parrilli, whose name and voice were on the calls that went out. Parrilli is a 19th Ward Republican committeeman as well as a failed midterm candidate for for a seat on the Metropolitan Water Reclamation District.
The Chicago Sun-Times spoke with voters who were unable to cast ballots due to election day chaos. Colleen Hughes arrived at her Bridgeport polling place shortly after its 6 a.m. opening on Election Day, needing to vote early because of her work schedule. "I just wanted to let you know that the robocalls did cost people their right to vote, and I think it is a big deal and not 'exaggerated' as the GOP leaders say," Hughes wrote to the newspaper.
There is still a criminal investigation underway, but it's hard to deny that the actions of Meroni and Parrilli appeared to disproportionately affect black voting districts:
Data made available Tuesday by the Chicago Board of Election Commissioners showed that 1,030 Republican election judges were no-shows at their polling places on Nov. 4 compared to 819 Democratic judges.

An additional 581 Republican election judges resigned their assignment in the days and weeks just prior to the election compared to 410 Democratic judges. Basically, those are individuals who called or wrote in advance to say they couldn't make it.

Most of the Republican no-shows came from African-American wards on the South Side, where the robocall activity seems to have been concentrated.
While criminal intent seems to be the most plausible explanation, others have offered up an alternative: they say that the election day chaos was just a show of complete incompetence by the Cook County Republican Party, who made the decision to put birther loon Sharon Meroni in charge of its election judge recruitment.