Open Carry Texas gun groups are pushing Texas lawmakers  for more "open carry" rights, even as a member of their community faces charges in a grisly double-homicide.
"We have so many gun bills that have been filed that we can't have anything but an open carry law pass next year," C.J. Grisham, founder of Open Carry Texas, told MSN.com. The push comes on the heels of an active murder case involving a prominent member of the controversial Open Carry Tarrant County group, who made headlines last year for terrorizing local businesses by openly brandishing firearms, sparking a frantic 911 call by employees at Jack in the Box.
Open Carry Tarrant County is definitely a part of the push toward legislation, despite prior claims that the group had been "disowned" for its radical behavior.
The push toward an open carry law comes on the heels of a brutal double-homicide involving two of the group's members. One is accused of murdering her husband and his daughter. The other is the first and only person she chose to call after the act.
On December 10th, open carry activist Veronica Dunnachie sent her two children to school and a third to a baby sitter before returning home to her estranged husband and stepdaughter, where she allegedly used one of her assault rifles to shoot  them both to death.
After the shooting, she turned to her friend and fellow Open Carry activist, Guy Potter, according to multiple news reports. Potter, also a prominent member of Open Carry Tarrant County, told her to go to a mental hospital. Potter then apparently called another friend, Steven Marshall, who made the decision to call the police.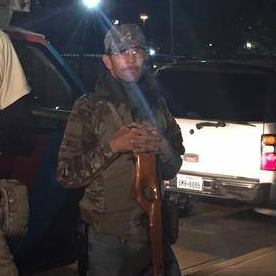 Potter was aware that Dunnachie was going through a divorce, and apparently she had turned to him for comfort in the past. He told police that this time, she said she'd "done something bad", according to an affidavit. When Potter tried to reassure her, she told him "she couldn't be helped this time as she had just shot her husband," the affidavit says. When Potter asked about Russ Dunnachie's daughter, Veronica Dunnachie said "she had shot her too."
He told her to drive to nearby Millwood Hospital, where police later arrested her for the double murder.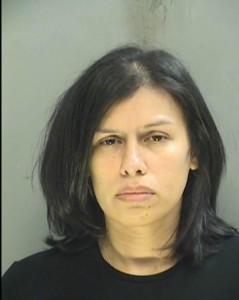 Veronica Dunnachie was in the middle of a messy divorce, and had  recently been ordered to vacate the couple's home before the end of the month. She and her husband had temporary restraining orders against each other that were issued last month, according to Tarrant County court documents obtained by the Star-Telegram. In many cases, in Texas, a restraining order in domestic court forbids possession of firearms, even if obtained legally.
Kimberly "KJ" Dunnachie died from gunshot wounds her head and chest. The 20-year-old had moved to Arlington, Texas two years prior to live with her father after she graduated from high school.
Her father, Russ Dunnachie, died from gunshots just before. Funeral arrangement have not yet been made.
Police have not yet recovered the weapon that was used to kill them.
Veronica Dunnachie's presence has been scrubbed from the main Open Carry Tarrant County page, but fragments left behind by Dunnachie on Facebook as well as other activsts pages paint a picture of how dedicated she was to Open Carry activities.