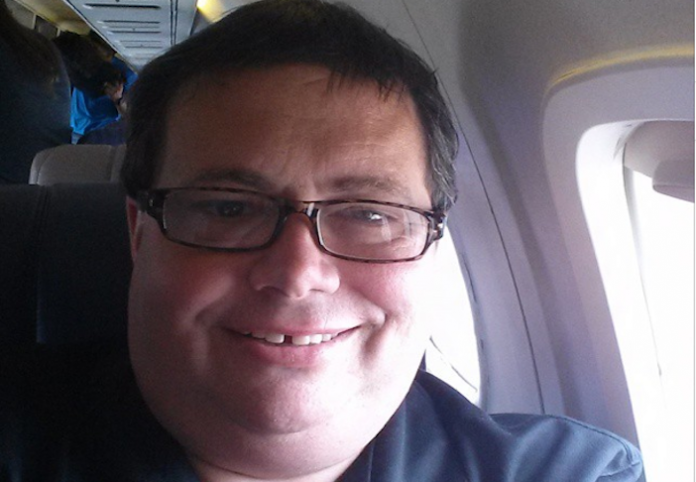 Shocker! Rep. Blake Farenthold, a Republican Congressman from Texas who was recently outed as the owner of the dirty domain name www.blow-me.org, is facing a lawsuit from a former employee who claims he created a hostile workplace filled with gender discrimination and inappropriate sexual comments.
Lauren Greene, who worked for Farenthold from February 2013 through her termination in July 2014, cited a number of incidents of sexually-charged misconduct in a lawsuit filed with the U.S. District Court last week.
Greene's complaint paints a picture of a man-child who couldn't keep his sexual comments and behavior to himself — so his staff was tasked with keeping him in line. She claimed that Farenthold "regularly drank to excess, and because of his tendency to flirt, the staffers who accompanied him to Capitol Hill functions would joke that they had to be on 'red head patrol' to keep him out of trouble." When she observed that Farenthold seemed to be avoiding her during part of her employment period, his executive assistant, Emily Wilkes allegedly told her "that Farenthold had admitted to being attracted to Plaintiff and to having 'sexual fantasies' and 'wet dreams' about Plaintiff."
He even allegedly bragged to her about his invitation to a threesome with a lobbyist. (Which, aside from the grossness of the proposition, also raises some serious ethics questions.) Also: Yuck. Just yuck.
The lawsuit also details an alleged "hostile work environment" created by Farenthold's chief of staff, Bob Haueter. This is also not the first time that Haueter has been accused of sexist behavior. In May, 2012, during his work on Representative Buck McKeon's campaign, when he was accused of sexist behavior and dishonesty towards SCTV when helping McKeon avoid a debate.
Greene claims Haueter threatened to send her home once because "he could see Plaintiff's nipples through her shirt." When she complained to the congressman, she claims he told her to "stand up for herself." She says she was fired a month later.
According to The Texas Observer, late-night visits to bars on the campaign trail in 2010 earned Rep. Farenthold the "Crunked" and "Bender" badges on Foursquare. He's also a perfect example of the Tea Party's influence to instill the "do-nothing value" into Congress:
"For congressmen like Farenthold, a conservative Republican and member of the House Tea Party Caucus, lawmaking is largely a sideshow. Farenthold came in on the tea party wave of 2010, edging the Democratic incumbent by a mere 800 votes. Gerrymandering by the Texas Legislature gave him a much more Republican district to run in and he coasted in 2012 with 57 percent of the vote. This year, his Democratic opponent is not expected to pose much of a challenge.

Now in his second term serving Texas' 27th District—a large scrap of South Texas that ranges from Farenthold's hometown of Corpus Christi up the coast toward Houston—Farenthold has settled into a routine where distraction is just part of the job.

In four years, Farenthold has passed one bill and if he's known outside his district—where more than one out of five lacks health insurance and 23 percent of kids live in poverty—it's probably because Bill Maher recently made him the target of his "Flip a District" segment."
A closeted birther-theorist who has, in the past, called to impeach Obama, Farenthold made headlines in 2010 during his run for Congress when an image of him partying with scantily-clad women was published on a Texas night life website called the Crush Girls. The image was widely ridiculed and circulated, but Texas is Texas, and Republicans just love their "boys will be boys" mantra  — so he still managed to win his seat in Congress.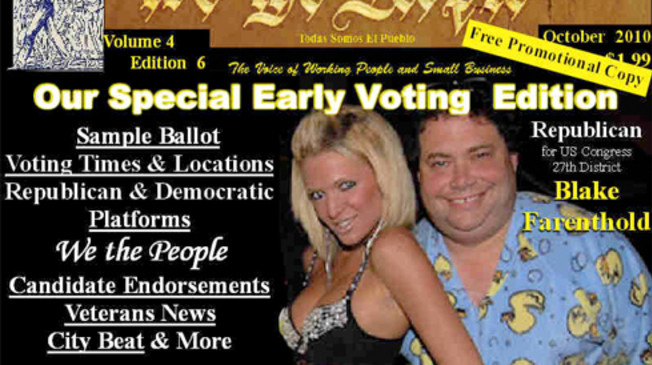 [Top Image Credit: Blake Farenthold/Instagram]