Anti-government gun rights activists open carried rifles, handguns or both yesterday at a protest outside Spokane Valley, Washington police headquarters that was organized by the Rattlesnakes Motorcycle Club, according to the Spokesman-Review.
At least 300 self-described "constitutionalists" took part in the protests sparked by controversial comments made by Spokane County Sheriff Ozzie Knezovich. Knezovich recently went viral in a video segment thanks to conspiracy-theorist talk show host Alex Jones, who featured a clip of him explaining the percieved necessity for a mine-resistant ambush protected vehicle (MRAP) that the department received for no cost as military surplus. In the video clip, Knezovich tells an unnamed citizen that the MRAP is needed because "We've got a lot of constitutionalists and a lot of people that stockpile weapons, a lot of ammunition."
The Spokane Valley event was organized by M. Scott Maclay, president of the Rattlesnakes Motorcycle Club, which he described to the Spokesman Review as a "political action club." The group's website explains the club's purpose:
The purpose of this club is that of people who want to work
towards affecting change in local politics and law enforcement for
the better for riders and all citizens.(a true grass roots movement
because we can affect change in our own back yards) We will
have a clubhouse with dues, 3 piece patch, colors, officers, and
Chapters in local communities who are politically active as a
group, supporting biker friendly candidates, supporting the rights
of victims of out of control law enforcement, and calling attention to
governmental and law enforcement abusers who are primarily
responsible to our governmental chain of command but abuse
their position.

We are law abiding citizens with traditional biker muscle and
values with a strong willingness to display such. This is a
"patched" group with a "prospect" venue. We respect all riders
and other patched clubs, avoid illegal activities, show a healthy
enthusiasm for influencing local elections and politics and work for
a better future for all citizens.
Maclay, who has a criminal record but has never been convicted of felonies, may not be protesting solely for upholding the Constitution. Maclay donated money to Knezovich's election opponent, Doug Orr. He is also in the process of suing Knezovich, the Sheriff's Office and the Spokane County Jail. (His lawsuit claims that he was not given needed medication while he was in jail for four days in February 2011 after being arrested on a civil bench warrant.)
According to the Spokesman-Review, Maclay's criminal record dates back to 1984, when he  was arrested on suspicion of second-degree burglary, a felony, under his previous last name of Dunwell. (He was convicted of first-degree criminal trespass, a misdemeanor.) In 1999, he was charged with reckless endangerment and malicious mischief, but the charges were dismissed. Maclay also has a history of using guns to settle his problems:
In 1997, Maclay was the victim of a road-rage incident and responded by drawing his handgun and firing two shots over the man's head, according to past news articles. In May, he drew a handgun inside the Timber Creek Grill, 9211 E. Montgomery Ave., during a meeting of the Inland Empire Motorcycle Coalition.

Maclay said he drew his gun in self-defense during a fight with members of another motorcycle club who were also armed. No arrests were made after those involved in the incident declined to press charges, Knezovich said.
The Inland Empire Motorcycle Coalition has voted to ban Maclay and other members of his group from future meetings citing his reckless behavior.
The Rattlesnakes Motorcycle Club's Facebook page shows Maclay has some friends in high places out of state.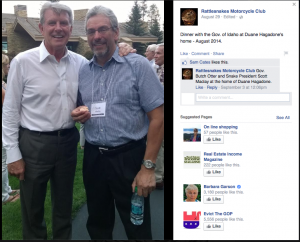 Stevens Co. Sheriff Candidate Ken Barker, second from the left front row, met with with members of the Rattlesnakes on a "training mission"  last August.
Gavin Seim, who recently hosted a large open-carry rally in defiance of Initiative 594, also spoke at the protest at the police station. He says the problem is that law enforcement is becoming increasingly militarized, and the result is that citizens like himself are arming themselves to the gills.
"Read my lips, Ozzie Knezovich, the people should be armed equal to the police" Seim said. "If they can have an MRAP, we can have a tank," he said, echoing his calls for citizens to be prepared for an armed confrontation with the government. "When the government fears the people, there is liberty," he said. "Nothing terrifies a bully more than someone who will stand up to them."
State Rep. Matt Shea, (R-Spokane Valley) also attended the protest. "If loving the Constitution is now terrorism, we don't live in a free country anymore," he said. "No more. The line in the sand is here. We won't back up one inch."
The Sheriff's Office released a statement Saturday saying the deputy should have used the word "extremist" to refer to people who believe their ideology justifies violent attacks.
Extremists.
In other words, "activists" who think the best way to "demilitarize police" is to show up outside their offices with an arsenal of weaponry, threatening to bring tanks to outgun the police.
[Top Image Credit: The Spokesman-Review]