Sarah Palin has managed to make headlines already in 2015 — for sparking outrage among among animal lovers after posting photos showing her son Trig using the family dog as a stepping stool on Facebook.
Six-year-old is shown stepping on the back of the family's black Labrador while it lies on the kitchen floor in order to reach the sink. To Sarah's credit – the dog appears to be fine with it – but who knows they put that poor animal through on a daily basis? Animals are often forgiving creatures. Most commenters on Facebook agreed that it puts Sarah's parenting in a poor light.
At best, Palin appears woefully ignorant and irresponsible. At worst, she appears woefully negligent as a pet owner and a parent.
The Facebook post by Palin, who was the Republican vice presidential nominee in 2008, went viral midday Friday. Fans and critics alike have commented on the photos and questioned Palin's praise for Trig, the youngest of her five children, who has downs syndrome.
"May 2015 see every stumbling block turned into a stepping stone on the path forward," Palin wrote on her Facebook page.
"Trig just reminded me. He, determined to help wash dishes with an oblivious mama not acknowledging his signs for 'up!', found me and a lazy dog blocking his way. He made his stepping stone," Palin wrote.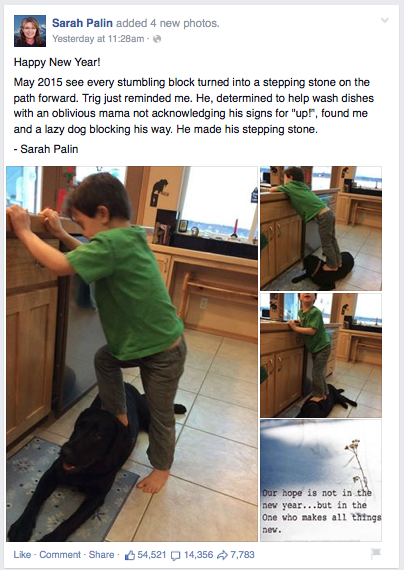 The message has earned more 50,000 "likes" from some of Palin's Facebook followers.
[Image Credit: Sarah Palin / Huffington Post]