Mersed Dautovic, a former Des Moines police officer convicted of excessive force, is asking the United States Supreme Court to review a ruling that could send him back to prison to serve a longer sentence.
In 2012, jurors convicted then 29-year-old Dautovic on an excessive force charge stemming from an attack on Octavius Bonds in Sept. 2008. Jurors listened to witnesses testify that Dautovic pepper-sprayed and struck Bonds with a baton during a traffic stop, leaving him bleeding with large gash on his head.  Bonds — who was unarmed and did not resist arrest — suffered bruises, a broken left hand, a fractured right arm and a head gash that required eight staples to close.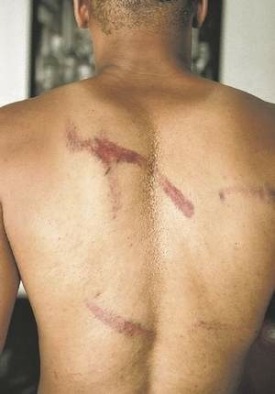 According to The Brown Watch, the struggle took place and beating ensued after the driver of the car became confused while being pulled over. The police went to pepper spray Bonds on the passenger side. As Bonds tried to deflect the blows, Dautovic let loose and the driver, Erin Evans began to scream for help:
Bonds at some point grabbed Dautovic's hands while asking him to stop the pepper spray. Both officers then hit Bonds with batons, including roughly 14 blows while he was on the ground curled in a fetal position, according to court documents.

Witness Marie Grove, who saw part of the attack from her Jeep on Southeast 14th, told jurors last week that Evans' screams were "horrific" and that the officers' baton blows looked "like they were chopping wood."
Federal prosecutor John Courter described the baton as a weapon  of deadly force — "essentially a mini-crowbar with a handle on it."
"Those blows were intended merely to punish, not for any legitimate law enforcement purpose," Courter told jurors during the trial's closing arguments. "Because at that time, Octavius Bonds was not resisting arrest."
Dautovic was fired from the police department for his actions, but received a light prison sentence.
He was released from his 20-month federal prison sentence in January, 2013.
 In a rare move to rectify injustice, a court panel last August ruled the sentence was too lenient due to the seriousness of Bonds' injuries. A panel of three judges reviewed the case and the 8th U.S. Circuit Court of Appeals vacated the sentence. The ruling also noted Dautovic lied about the circumstances of the attack on a police report and in court.
"The district court imposed a substantively unreasonable sentence in this case," Judge Roger Wollman wrote in the ruling. "Dautovic's offense conduct was egregious. A police officer beat an innocent victim with a dangerous weapon causing serious bodily injury and permanent physical damage."
Sentencing guidelines allowed U.S. District Judge John A. Jarvey to give Dautovic up to 14 years in prison, but he gave the former officer significantly less time "because he had no prior criminal convictions." The judges, however, recognized that the officer of the law should have been well aware of the boundaries of that law.
Dautovic's Des Moines defense attorney J. Keith Rigg filed a petition for a writ of certiorari on Dec. 18 asking the supreme court to review the ruling. The court receives more than 7,000 petitions yearly and usually accepts between 100 and 150 cases.
Dautovic will face the possibility of returning to prison after a new sentencing hearing if the court doesn't review the case, Rigg said. He's scheduled to finish his sentence in January after his one-year supervised release term is over.
The police department  in Des Moines eventually settled a civil claim for the brutality for $500,000.
At the time of the officer's initial conviction, his family claimed it was he, not his victim, who was being discriminated against.
"This is racism against the Bosnian people," one female relative of Dautovic's yelled later at a reporter outside the initial sentencing hearing court. "This is war between the U.S. and the Bosnian people," another woman told reporters, according to The BrownWatch.