48-year-old Justine Herring, a candidate for mayoral office in Colorado Springs, Colorado, was arrested over the weekend on a on a felony domestic violence charge involving an assault-style rifle.
She is currently being held El Paso County jail without bond, according to the Denver Post.
The incident took place at Memorial Park, a public space near downtown frequented by kids soccer and football teams, last Saturday, according to Colorado Springs police.
Authorities say she pointed the AR-15 rifle at a male victim and threatened him.
Herring, a self-employed real estate agent with a known criminal  history of misdemeanor offenses, including driving under the influence and domestic violence. Here's her pitch for Colorado Springs voters: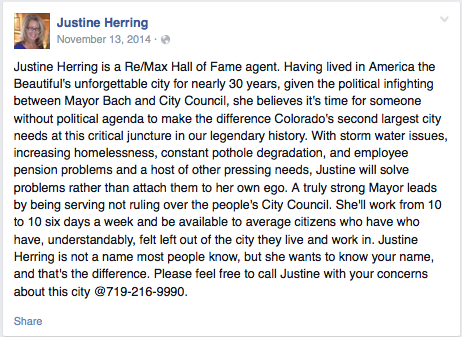 Herring had previously been accused of having profiles on escort websites. When local News 5 Channel investigated her ties to the websites, she claimed she had been hacked and impersonated:
Herring says at least two people who once lived in her home with her and her mother had access to her phone number and personal information. She says one has been convicted of identity theft related to her late mother and is currently incarcerated. "When somebody has access to your home computer, they can pull any picture they want and do whatever they want," Herring said. She suspects they are responsible for compromising her identity and creating bogus sites, identifying her as "J" on one of them. Another site with a profile created in October 2013 states, "Are ready for this Texas girl to tell you what you or I want??? I dare you to call on me. You will never forget-you will remember me! I am not afraid to take a chance! You??? Call me anytime."

Herring does not deny the photos, including one of her semi-nude in a bathtub, are of her. However she is adamant that she is not responsible for the content on the sites and was unaware of their existence until notified of them by News 5. "I have never received a call requesting any type of an escort service," Herring said. "I don't even know how to pawn something, let alone run a site like that."
Herring's criminal past includes violation of a protection order, a permanent restraining order, a DUI that she told reporters "I got in Pueblo blowing a .011." All are misdemeanors that took place between 2009 and 2012.
Herring has not yet specified a party or platform.