The Charlie Hebdo offices in Paris France were attacked by terrorists on the morning of January 7th 2015, killing 12 people, with a total of 17 people dead before the crisis was over. The attack was supposedly in retaliation for cartoons of the Prophet Muhammed that the Hebdo cartoonists published. Law enforcement agencies have clamped down to prevent further violence, but several prominent right wingers in the United States have viewed this attack as an opportunity to score political points. One of the more prominent examples is Aaron Walker, who hails from Manassas, Virginia. For years now, Mr.Walker has produced "cartoons" (stick-figure drawings, really) of Islam's founder that are far more explicit and offensive than anything the staff ever produced at Charlie Hebdo.
Even before the incident was over, Walker went on a mini jihad on Twitter, posting cartoons from his old #EveryoneDrawMohammed cartoon database. These depictions concentrated on one of Aaron Walker's personal pet peeves when it comes to the Prophet, namely allegations of pedophilia because of his marriage to a child bride. Aaron Walker used this meme throughout the aftermath of the Paris crisis while recruiting others to spread his, um, 'cartoons' born from an extreme right wing ideology. To Walker, the Charlie Hebdo attack was a personal vindication of his tasteless and talentless efforts to inflame opinion and invite attacks — on other people.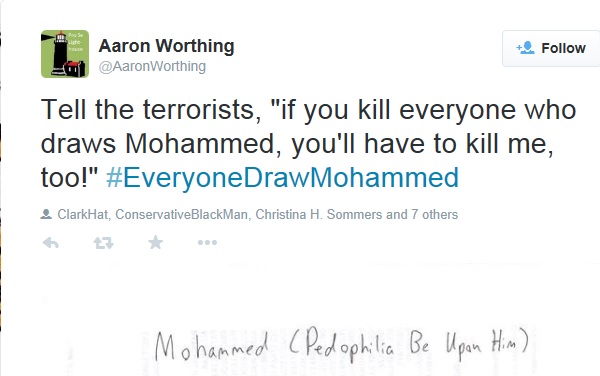 Mr. Walker has been producing these cartoons for more than four years. Although his work is still protected by the First Amendment, it's not comedy or satire. It's juvenile extremism designed to invite the worst possible response from a world away. Walker seeks more than attention; he claims to carry a revolver and actively taunts terrorists to "come and get me, bitches." On his EverybodyDrawMuhammad blog, he called on other people to submit "fatwa-worthy cartoons" and drawings that would get them put on some terrorist's death list. He even claims in his tweets that he wants to die or be killed.

And he told them to do it under their own names. Walker chose to use the pseudonym "Aaron Worthing" for himself, though, because his courage only extends to asking others to risk themselves. Like asking his wife to check under the car for bombs every day. Here is an example of his bravado:
Walker gave his city, but not his real name: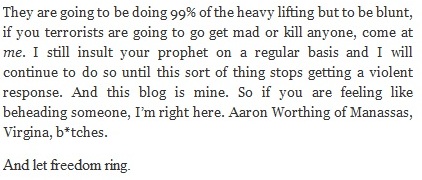 Walker used to be an anonymous figure, but due to a legal fight he picked in 2011, 'Aaron Worthing' was identified as attorney Aaron Walker of Manassas, Virginia. Walker had lied to everyone about his name. After fighting numerous legal battles with his arch nemesis through a mentally ill proxy, his real name came out, and he finally had to explain to his readers that he had lied to them all along.

The reason he lied to them? Because his wife (who, let us reiterate, checks under the family car every day for bombs while he stays inside to provide covering fire with his little six-shooter) didn't want him to have a public battle with real terrorists. She rather wisely wanted him to remain anonymous while producing said images of Mohammed. And of course there is Walker's rank cowardice which shows a yellow streak down his back a mile long.

However Walker continued to encourage readers to submit their pen sketches under their real names and locations to show how courageous they were: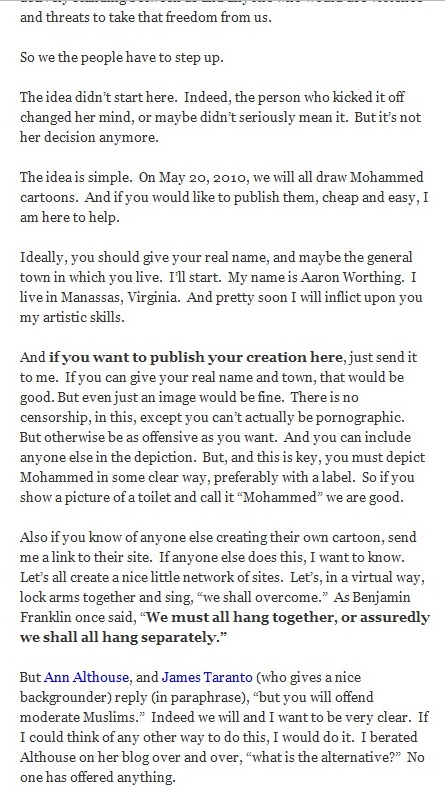 Of course Mrs. Walker had a very understandable and reasonable expectation that her husband would avoid idiotic acts that might cause his real name to get out. But what Walker expected from his readers and publishers was not what he did himself. As the years went on he continued to have legal battles that consumed him and his followers to such a degree that some would call it a religious calling. However the more he went to court, the more exposed he became. So the EveryoneDrawMohammed blog and Walker's cartoon career had to take a back seat while he battled it out in the courts on issues he created.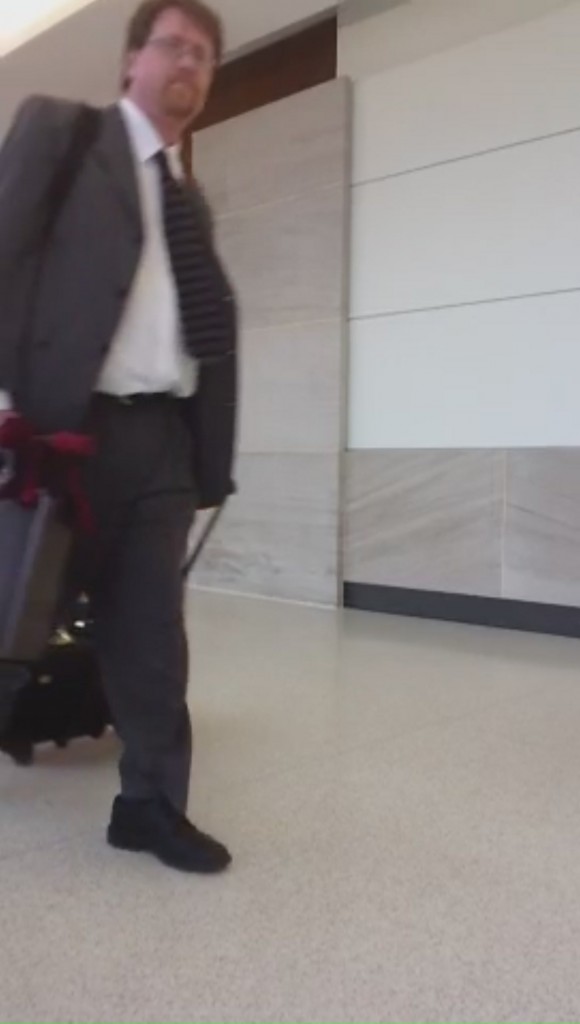 However, within hours of the Paris attacks Mr. Walker went ballistic and started putting out his old archive on Twitter, once again asking people to join him in his crusade against Islam and Muslims and terrorists using bad drawings. After the attacks were over and the terrorists were terminated, Walker continued to draw heat on himself by claiming that he was "one of the first" to draw Mohammed on the internet, and claimed his dreaded stick figures of blasphemy made him just like the dead cartoonists in Paris.
However Walker's cartoons were not like those produced in France, rather the cartoons he produced were showing the Prophet Mohammed as a child rapist and pedophile, and he encouraged as many as he could on Twitter to retweet them because they need to stand tall for free speech. Anyone who refuses or questions his motives — or his childish cartoons — on Twitter is denounced as a "pussy" and a "coward" for "giving in to the terrorists" for disagreeing with the Great Defender of Free Speech.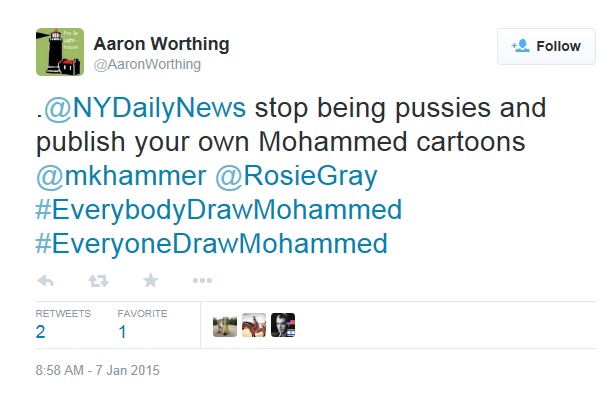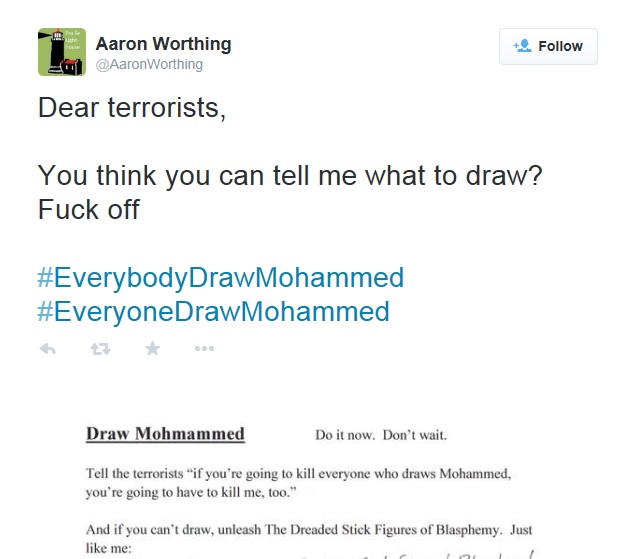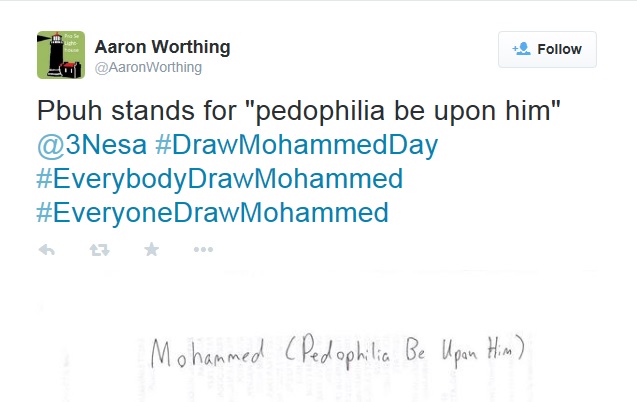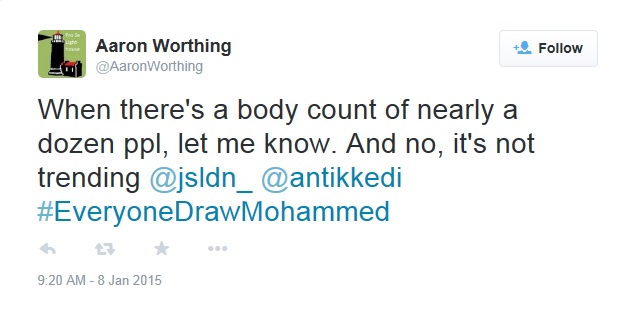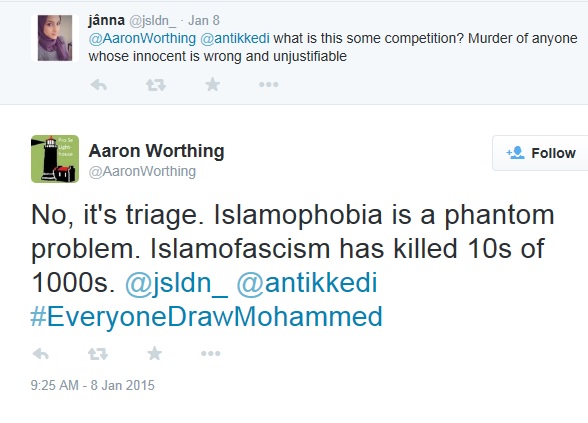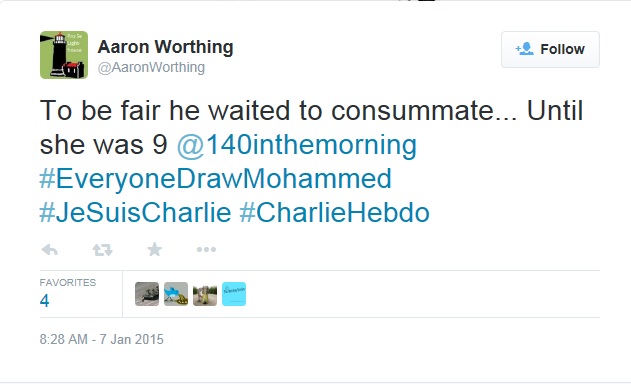 In his numerous legal filings in court, Walker often claims that those who have exposed him are out to get him killed by continuing to talk about his cartoons and drawings in their own legal filings against him. Anyone who calls him out on his behavior is accused of trying to get him killed. In public, Walker is very comfortable exposing himself and those around him to potential violent reprisals for producing such materials — until he is interviewed on camera, at which point he prefers to keep his face out of the picture because he's so worried about people trying to kill him.
Walker never really owns what he is doing here. You can't go out and scream hatred of a religion in public, and then claim that when others call you on the carpet over it that they are trying to get you killed. Does he really believe that he should go down in a hail of bullets and gunfire to protect his 1st amendment rights, or is it all some XBOX Call of Duty game to him? Does he believe he will just re-spawn in heaven after getting killed? Because that's pretty much what the terrorists think, too.
Walker was working at a health related company while blogging and putting out his cartoons and carrying water for Los Angeles Assistant District Attorney John Patrick Frey. But when Walker got into a legal tussle over what he was doing, causing his name to get out, he notified his employers of the potential legal and safety issues. They quickly went to check on the office where Walker was producing his blog and found the office in disarray. Various pleadings they had hired him to complete were left undone or in a mess according to Jim Hodges, the attorney for the firm. Hodges quickly determined that Walker was in serious difficulty and promptly placed him on leave pending the outcome of his investigation into what Walker had told them about his activities and his legal quandary.
After a few days Walker and his wife were fired from their jobs at the firm. Mr. Hodges was left to clean up the mess and make sure that Walker's coworkers had a secure workplace, so he contacted Walker and pleaded with him to publish the fact that he no longer worked at the health care firm. Hodges didn't want terrorists coming to the office looking for Walker: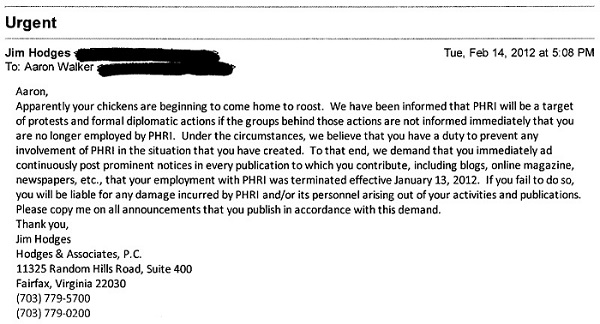 Walker's reply to Mr. Hodges was almost uncanny in its careless attitude for the lives of his coworkers. He didn't care less if they were harmed or killed. Walker was only upset that Mr. Hodges and his former employer were treating him "shabbily;" his most pressing concern was dinner at home with his wife that evening.
Aaron Walker loves to turn up the heat — and then walk right out of the kitchen.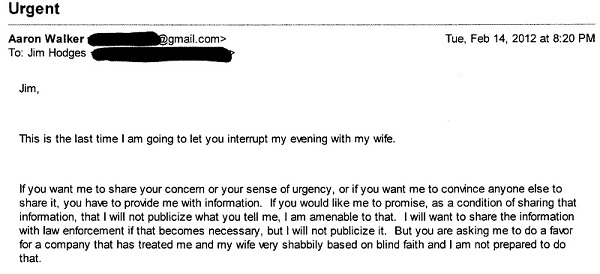 Is Walker a danger to the community where he lives? According to his own ideal vision, his neighbors, the local retail outlets that he visits, and practically every place he goes faces a potential terror attack. Does he care? In my opinion he does not care at all, because according to Walker, people who may be harmed or are upset at him are just collateral damage. If his masturbatory drawings get other people killed, then so be it.
Walker does still have a small cadre of supporters who wrap themselves up in the false flag of the good old USA, using it as a way to vent their bigoted hatred of others while claiming to be free speech martyrs. Most people who have known him the longest have figured out what a loon he is, so he saw the tragedy in Paris as an opening to recruit new followers. Hopefully enough people will figure him out before he gets someone killed.
Here are some final questions:
1. Will federal government agents or state police protect Mr. Walker's neighbors in Manassas Virginia?
2. Will the neighbors Walker lives next to be notified by police or the federal government that this great Muslim hater and stick figure cartoonist lives next to them?
3. If you were living next to someone like Walker, would you want to pack up and move, or would you want Walker to pack up and move?
4. Does the community in Manassas Virginia deserve to be told that they have Mr. Walker living in their community?
5. Do the people that live in Manassas Virginia deserve to be protected from reprisals that Mr. Walker invites on himself and those around him?
6. Does Mr. Walker deserve a security protection detail for life from the federal government or state government or state police that would be paid by taxpayers?
7. Does anyone in government, be it DHS, FBI, State Police, Local or City police believe that anyone is in danger wherever Mr. Walker is living, working, eating, visiting?
Inquiring minds want to know just what the city, state and federal government is doing, or will do, to protect those who are forced to live or work next to this gun toting terrorist magnet.