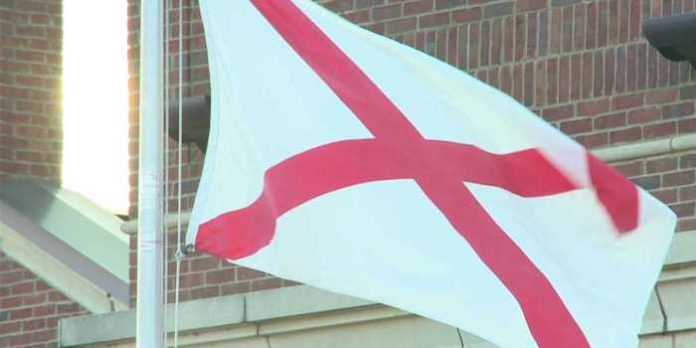 This morning began with uncertainty at courthouses all across the state of Alabama as same-sex couples waited to find out whether a federal court ruling would let them get married today. Then just minutes before the business day began, the US Supreme Court clarified matters by denying Alabama's request to stay the Eleventh Circuit's ruling, and couples began getting marriage licenses at many locations across the state.
According to one source on the scene, the Montgomery Police Department has blocked off a street and at least a dozen couples are lined up to get married this morning. Jefferson County Probate Judge Alan King has already issued his first licenses; so has Madison County Probate Judge Tommy Ragland.
But a majority of the state's probate judges are still refusing to issue licenses. An interesting battle looms in the northwest corner of the state, where Lauderdale County Probate Judge James Hall [(256) 760-5800] is refusing to issue any marriage licenses at all and his office tells me this decision is indefinite. Colbert County Probate Judge Daniel Rosser [(256) 314-5822] has also said he will refuse to issue licenses to any couples, but his office is not answering the phone to take questions about the matter.
Both Colbert and Lauderdale probate offices are aware of the Supreme Court's denial of the stay, and both judges cite Alabama state supreme court Chief Justice Roy Moore's efforts to block the courthouse doors against same-sex couples as their motivation. Apparently, lots of Alabama's jurists are going to need the encouragement of federal court sanctions to do the right thing.
Helpfully, Freedom To Marry has a list of Alabama courthouses where civil servants aren't treating the Equal Protection Clause of the 14th Amendment as a twisted excuse for churlish bigotry. Along with the ACLU, the organization has set up a hotline at [(334) 265-2754] where folks can report any issues they may encounter while trying to get married today.
We will update this post as details become available.
UPDATE 1: SPLC President Richard Cohen has issued a statement blaming Roy Moore for the confusion reigning at probate courts across the state.
It's a great day in Alabama for everyone who cherishes freedom.  We congratulate the same-sex couples who are finally able to marry in our state, and we honor the probate judges who are following the Constitution of the United States rather than the Chief Justice Moore's suggestion that they defy it.

Unfortunately, we are seeing reports of counties around our state closing their doors to couples seeking marriage licenses. This direct result of the meddling by Chief Justice Moore. He claimed that his order late Sunday night was made to prevent confusion, but confusion was his goal and he achieved it, at leas temporarily, to the detriment of same-sex couples in our state. The probate judges who continue to deny same sex couples their constitutional rights will likely face expensive lawsuits.
Meanwhile, Moore called into WYDE 101.1 FM out of Cullman, Alabama, to claim responsibility for the situation on conservative host Michael Hart's radio show.
UPDATE 2: The Washington Post has a pretty concise explanation of how Moore holds sway over state probate judges.
UPDATE 3: Moore's mission to stop marriage equality is failing. According to WHNT reporter Claire Aiello, seventeen couples have already been married in Huntsville today and sixty more are expected to tie the knot before day's end.
UPDATE 4: Progress? Governor Bentley has announced that no actions will be taken against probate judges who do issue licenses to same-sex couples. Via Yellowhammer News:
This issue has created confusion with conflicting direction for Probate Judges in Alabama. Probate Judges have a unique responsibility in our state, and I support them. I will not take any action against Probate Judges, which would only serve to further complicate this issue.

We will follow the rule of law in Alabama, and allow the issue of same sex marriage to be worked out through the proper legal channels.
UPDATE 5: AL.com has an interactive map showing Madison, Jefferson, Etowah, Montgomery, Lowndes, Coffee and Chilton counties where same-sex couples are receiving marriage licenses.
UPDATE 6: Cari Searcy and Kimberly McKeand, the Mobile couple whose suit against Alabama Attorney General Luther Strange led to Judge Granade's decision overturning Alabama's law against marriage equality, have filed a motion for contempt against Probate Judge Don Davis. Other judges around the state who remain obstinate in their 'lost cause' can expect to be subject to similar actions.
UPDATE 7: There are reports of protesters trying to disrupt marriage ceremonies. This is how Jesus's biggest fans show us that their god is love:
Protest outside Butler Co. Courthouse against same sex marriage @ALNewsNetwork #ALmarriage pic.twitter.com/CsQKSRMewm

— Darryl Forges (@DarrylForgesTV) February 9, 2015
UPDATE 8: Two more counties, Crenshaw and Lamar, have confirmed they are issuing marriage licenses. That's 9 down, 58 to go…
UPDATE 9: Americans United for the Separation of Church and State has a map of the counties which are refusing to issue marriage licenses to same-sex couples.
UPDATE 10: Judge Callie V.S. Granade has denied the motion for contempt against Judge Don Davis because he was not party to their suit.
UPDATE 11: A group of plaintiffs has filed for an injunction in the US Southern District of Alabama to enforce Judge Granade's decision in Mobile County.
UPDATE 12: BuzzFeed has a lovely set of photos of Tori Sisson and Shanté Wolf, the first same-sex couple to marry in Alabama.