This January, Eric Scheidler of the Pro-Life Action League (PLAL) decided to mark the forty-second anniversary of Roe v Wade by sending plastic handcuffs to every abortion provider in America. But this lame attempt at intimidation has backfired big-time in Alabama, where a talented artist named Pamela JoAnn Willis has turned the handcuffs that Scheidler sent one clinic into a fantastic work of art to raise funds in support of clinic access.
Using bold colors and the snake symbol of freedom and independence associated with the American Revolution, "Don't Tread On Me" incorporates PLAL's handcuffs to make a vivid statement about reproductive freedom — and the incredible fact that in the 21st Century, there are still some Americans who think violence and intimidation are legitimate ways to prevent women from exercising autonomy over their own bodies.
For instance, at the PLAL website, Catholic writer Matt Yoncke is proud that Scheidler's handcuffs "ruffled feathers," and calls Willis's artwork "bizarre."
It's sad to see such talent being funneled toward such evil. Looking at some of the artist's other paintings on her Facebook profile, she has quite a gift, but this project has a particular crudeness and anger about it that hide her true skill in creating beautiful reflections of God's world.

Eric noted in particular the strangely placed rattlesnake at the base of the uterus, reminiscent of a contraceptive coil, among other unpleasant images.
One of the most ubiquitous American symbols of insurrection against tyrannical control, the coiled snake has been used for years by tea party activists. But put it in a vagina, and the serpent becomes an "unpleasant" reminder that contraception exists, which these men think is terrible because they find birth control icky.
This is a key point for Scheidler and Yoncke. PLAL doesn't just oppose abortion, but also campaigns against birth control access, too, "because it destroys the inherent meaning of the sexual act as a sign of permanent, life-giving love." This is why the organization touts all manner of gobbledygook and pseudoscience about various modes of birth control: in the minds of Scheidler and Yorcke, nothing is more upsetting than the idea of a woman saying 'no' to a man's sperm. Even outright lies are justified by the 'greater good' of their godly efforts to enslave every uterus to their creepy forced-birth agenda. "Ruffled feathers," indeed!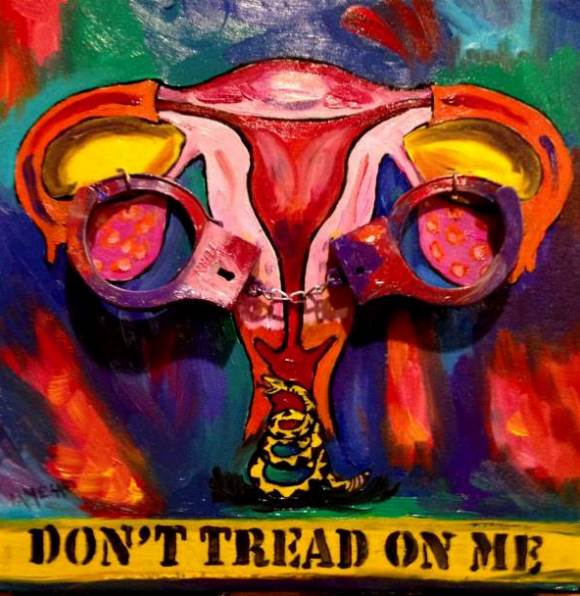 As New York reproductive rights activist and artist Cindy Cooper explains, PLAL's broad attack on reproductive freedom is well-funded.
The Pro-Life Action League is an all-in-the-family affair. It took in $937,663 from undisclosed sources in the year ending May 31, 2014, according to its IRS 990 tax filing posted on Guidestar, and amassed $4.934 million dollars from undisclosed income sources from 2009-2013. Nearly one-quarter (23%) of its last reported annual income, — that is, $215,668 — goes directly to the Scheidler family. Executive director Eric Scheidler received $111,048 in compensation in the year ending May 31, 2014; $52,950 was delivered to his mother, Ann Scheidler; and $51,670 went to his father, Joseph Scheidler, the organization's founder.

Among its other shenanigans are parading about with grisly pictures said to be of aborted fetuses, a tactic that it pioneered according to a Political Research Associates' organizational profile by Robin Marty. It also bombards people entering clinics with its anti-abortion messaging.  Some of its other wasteful activities include a 2005 protest of American Girl dolls, to which it objected because it supported Girls, Inc. The Scheidler group was appalled because, it said, Girls Inc. sanctioned a woman's right to choose and also sex education and same-sex relationships.
In complete contrast, the Alabama Reproductive Rights Advocates organization (ARRA) operates on a comparative shoestring to do the vital work of helping women access reproductive health care — even as forced-birth politicians invent clever new ways to satisfy the raving demands of groups like PLAL by restricting that access. In our current environment of TRAP laws, groups like ARRA are the new 'underground railroad' in America, and every dollar Willis raises will go to support the organization's activities. As of this evening, the high bid is $525, but Willis is holding the auction open until July 4th.