Above: Roy Moore with Operation Save America Executive Director Rusty Thomas.
Roy Moore, the Alabama state Supreme Court chief justice who came to national prominence by erecting a graven image of the Ten Commandments in the courthouse rotunda and has emerged as a leading voice of the anti-gay movement, will address a gathering of forced-birth activists and domestic terrorists in Montgomery tonight.
The event, which is being held by Operation Save America (OSA) and Abolish Human Abortion, will be held at the main campus of Fresh Anointing Church. Both groups feature prominent extremists who endorse or commit acts of violence against reproductive care clinics and providers.

Among them is Dr. James Patrick Johnson of Ohio. A leader of the militia group Minutemen United, Johnson is also the Director of Ohio Personhood and has past links to the fanatical Army of God, which has listed him before as a "Hero of the Faith" — a title usually given only to those who commit violence against providers or clinics. Johnson denies being part of the Army of God, whose "heroes" always deny that any such organization exists whenever they are arrested for murdering doctors or setting clinics on fire.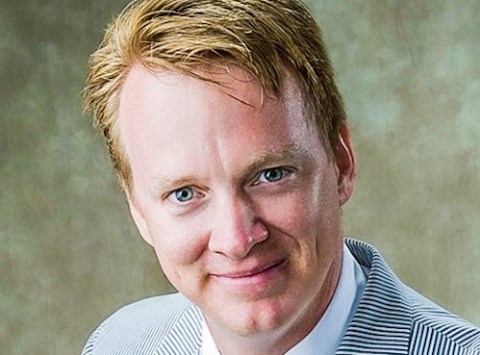 An uninsured family practitioner who once failed as a Libertarian candidate for the state legislature, the authoritarian Johnson opposes public breastfeeding as "nudity," preferring that babies starve rather than cause their mothers to offend his delicate eyesight. In extending this anti-nudity crusade to an Ohio strip club, Johnson has modified his anti-clinic tactics to harass and terrorize employees and customers. His Minutemen United group has done the same to churches which he judges too liberal on culture war issues, earning judicial rebukes for trespassing. As you might expect, Johnson rejects the separation of church and state and despises President Obama, calling him an "Uncle Tom" who "abuses black slave children." (He has deleted the article from his website, but you can still read it here.)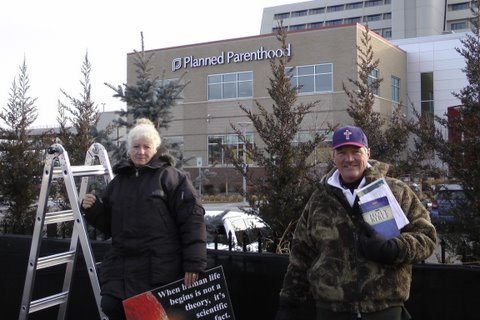 Ken and Jo Ann Scott, the co-leaders of Pro-Life Colorado, met at an anti-abortion rally in 1996 when Jo had already conspired with Cheryl Sullenger to detonate a bomb at a clinic in San Diego nine years before. (Sullenger went on to become a 'policy adviser' to Operation Rescue, the organization which begat OSA, and helped Scott Roeder keep tabs on Dr. George Tiller, who he eventually murdered in the vestibule of Tiller's church.) Jo has since gone on to be arrested and convicted more than once for violating the Colorado state "bubble law."
Prior to meeting his wife, Kenneth Scott was a noted rifle marksman and outdoorsman who already had "an extensive criminal record which includes convictions for assault and stalking," having served a 90-day sentence in 1994 for violating a court order to stay 300 feet from any clinic entrance. He was noted for screaming at the top of his lungs outside clinics:
"Fourteen years ago, I paid for an abortion. I cheated on my wife twice to get even with her."

"Those police officers can't save you,Warren.  You better repent."

"How many days do you have left?"

"God's judgment of you is coming."

"God hasn't snuffed you out yet, Warren."

"It's too late for Dr. Gunn.  It's over for him."

"I don't believe in killing abortionists, but 'vengeance is mine,' sayeth the Lord."

"Warren, how many days do you have left?  The Lord showed me you have less than one year.  One year and He's gonna take your life.  God's law is above man's law.  Warren, how many days do you have left?  How many days,Warren, how many?"
Highlighting the couple's deep compatibility, the federal government once sued the Scotts together for violating the FACE (Freedom of Access to Clinic Entrance) Act; the case was eventually settled with a permanent injunction. In 2002, they began taking pictures of people entering abortion clinics and sharing them with the now-deceased Neal Horsley, who put them on his infamous 'Nuremberg Files' website before it was finally taken down by order of a federal court.
These are just three of the many OSA participants who justify their extensive records of violence, intimidation, and harassment as "protecting the unborn." As Roy Moore addresses them tonight, he is expected to focus on the US Supreme Court's recent decision for marriage equality, a ruling that he has taken great pains to counter by confusing circuit court officers across the state with contrary orders. OSA, which is increasingly anti-gay in both rhetoric and action, is sure to feel emboldened and radicalized by his speech. BU will be on hand to cover whatever results may come.