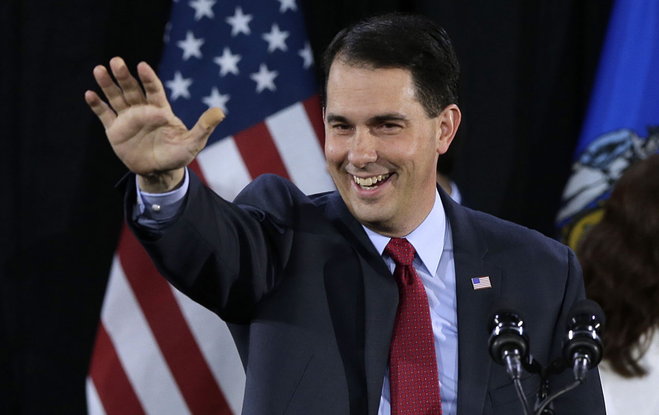 Wisconsin Governor Scott "Koch-ed Out" Walker officially launched his campaign for the 2016 Republican Presidential nomination today. In a press release, AFL-CIO President Richard Trumka proclaimed that "Scott Walker is a national disgrace." Scott Walker believes that bullying teachers and firefighters will serve to establish U.S. foreign policy credibility among other nations. At CPAC he joked that because he had handled 100,000 protesters in WIsconsin, he could handle ISIS.
Walker worships Ronald Reagan and his decision to break a strike of air-traffic controllers in 1981. At Walker's Club for Growth speech he stated, "I would contend the most significant foreign policy decision in my lifetime was made by a president who was previously a governor…It was in August of 1981, when Ronald Reagan fired the air traffic controllers…It sent a message around the world. It sent a message to our allies….Equally, if not more importantly, it sent a powerful message to our adversaries – ironically, some of the same we have today, with different names, the Soviet Union and Iran – that we were not going to be messed with."
To paraphrase the 1988 Democratic vice-presidential nominee Lloyd Bentsen, "I knew Ronald Reagan, and Scott Walker you are no Ronald Reagan." In fact, Walker is not even a "poor man's Ronald Reagan"; he is a "homeless man's Ronald Reagan." Watch Scott Walker sing "My name's Scott Walker (I Believe In Right To Work)" right here:
https://www.youtube.com/watch?v=4j66fd3dJYI
My name's Scott Walker – I believe in "Right to Work"
I like to bust the Unions because I am a pompous jerk
If I can take on 100,000 protesters, I can do the same across the world
Just don't ask me if Obama loves America
I don't like teachers
Because I never finished school
I don't like firefighters
Because I am a corporate tool
My whole career is such a joke – I am a stooge for the Brothers Koch
Just don't ask me if Obama's Christian
I am great at talking points – Not so good at tough questions
Reporters ask them any way
"I'll punt on that" that's what I say
I wish they would leave me alone – I want to stay in my comfort zone
Just don't ask me about evolution
"My name's Scott Walker"
Lyrics by James Rustad. Copyright 2015. All Rights Reserved.