Operation Save America (OSA), the radical anti-abortion group which came to Alabama last week hoping to shut down the remaining clinics in the state, closed out their tour of the Heart of Dixie last Friday by hosting a convicted clinic bomber and arsonist in Montgomery as well as a convicted rapist in Huntsville.
The late appearances of violent felons among the OSA protesters capped off a successful week for the clinic defenders, who largely fended off all attempts to trespass or disrupt the normal course of business at their locations. OSA never managed to close the doors of any facility and failed to prevent a single abortion from taking place.
In Huntsville, volunteers parked Uhaul trucks and hung tarps across the front of the clinic property to block the streetside view of the parking lot and the patients who used it. In Montgomery, security measures included barricades, a very loud confrontation, and intensive surveillance.
Of course, OSA claims they made all participants sign a pledge of nonviolence before the event. But that was cold comfort to the escorts and providers in Montgomery on Friday when they saw the protesters 'palling around' with convicted clinic bomber and arsonist John Brockhoeft. Responsible for a series of attacks during the 1980s, Brockhoeft spent seven years in prison and now says he does not regret his crimes one bit. (You can watch chilling video of Brockhoeft denying that he committed any "acts of violence" at all by clicking here.)
Militant and unstable, Brockhoeft apparently learned nothing from his imprisonment, as sources tell BU he is set to return to the hoosegow soon for sending threatening communications by mail to clinic volunteers. If true, this was probably Brockhoeft's last public appearance with the forced-birth movement, in which case escorts and providers across the country will breathe a deep sigh of relief.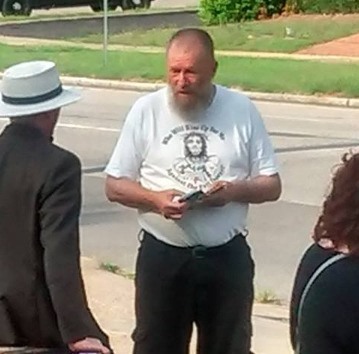 But that was hardly the end of the glorious hypocrisies on display. In Huntsville, where forced-birth activist James Henderson has been trying to shut down the Alabama Women's Center for Reproductive Alternatives (AWCRA) for years, clinic escorts spotted sex offender Scott Heldreth serving as a youth minister and chatting with the son of organizer Cal Zostrow.
Convicted of violently raping a student on the Ohio University campus in 1992, Heldreth allegedly found 'salvation' in prison and became a 'pro-life' activist upon his release. Among his most famous exploits, Heldreth once sent his ten-year old son into a Florida hospice to get arrested taking bottled water to brain-dead Terri Schiavo, who was of course unable to actually swallow a single drop of his 'gift,' in 2005.
Although Heldreth is not required to register as a sex offender in his own home state of North Carolina due to a loophole which exempts those convicted of crimes committed before 1996, there were plenty of local law enforcement officers at the scene on Friday to handle the security situation, so it was no hard task to let them know about Heldreth. Alerted to his presence, the Huntsville Police Department gave Heldreth until 3 PM to register as a sex offender or be arrested; he chose to pack up his contingent and leave instead, abandoning the scene to Henderson and his locals.
Ironically, Henderson's latest legislative gambit to shut clinics down is a bill to insert a 2,000-foot 'buffer zone' between the facilities and schools — the same distance Alabama law puts between the homes of sex offenders and schools. Not only did Henderson personally lobby for the legislation, which failed to pass during the regular session, but he consciously chose the statutory distance in order to equate abortion providers with rapists like his friend Scott Heldreth.
The ironies run deep: Henderson constantly expresses his deep concern for the children who will attend the school across the street from AWCRA, yet also constantly drags children along to his protests as props. Henderson's aggressive tactics, which have even been called out by a federal judge, are aimed at justifying his legislative efforts: after creating disruptions and public disorder, he decries the clinics for being scenes of disruption and public disorder. See how that works?
OSA was also dismayed to learn that clinics were running 'adopt-an-anti' fundraising programs during their activities in Alabama. Every protester is counted and then multiplied by a small amount of money, and donors also agree to special conditions for larger amounts. For example, every OSA participant might be worth $0.25 to each of a few dozen donors, while one donor might offer ten dollars for every time an OSA member 'accidentally' steps across the clinic property line, while another might sponsor every sermon delivered at the escorts by men with Taliban-beards. Alabama Reproductive Rights Advocates, an organization which helps poor and working women access abortion services, reportedly collected over $4,000 this way while OSA was in Huntsville.
As Republican officeholders around the country seek new ways to curtail women's rights of self-determination, the tactics and strategies used in the battle at the clinics are still evolving. Last week brought the front line of this conflict to Alabama, but in the end, the defenders have scored a near-flawless victory.