Styling themselves the Arizona Special Operations Group, three men who provided security for anti-Muslim activist John Ritzheimer's abortive 'Everybody Draw Muhammad' event in Phoenix, Arizona at the end of May have been arrested by the Federal Bureau of Investigation following a sting operation that used a fake Mexican drug cartel.
All three men are being held without bond as "a danger to witnesses and the community, based upon his threats of murder, amassed weapons and ammunition, and his connections to a militia community."
Robert Deatherage (see above), Erik Foster, and Parris Frazier were arrested in July after 'stealing' cocaine and cocaine simulator from a car parked at a warehouse. Instead of collecting $75,000 as the men planned, however, they were captured following a high-speed chase to Phoenix, where they attempted to hide at Frazier's girlfriend's apartment. The FBI chose to stop the ground chase and monitor the fleeing suspects from an aircraft in order to minimize the threat to the public.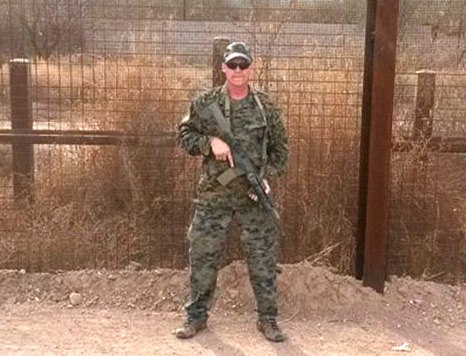 According to the government's criminal complaint, Frazier, who took the lead in communicating with the undercover FBI agent posing as a cartel member, expressed his willingness to "dispatch" any crime witnesses, and offered to murder the agent's notional 'cousin' in the fake drug-smuggling ring — all statements which were very different from his public posture as a law-abiding citizen. When VICE News interviewed Frazier in July 2014, he claimed to lead a group called 'Whiskey Bravo' with the tacit approval of the very same law enforcement agencies now responsible for his arrest:
"Every day when I'm driving to and from Sierra Vista down here to where I'm at, I get stopped, I shake their hands, and we talk, but we don't really talk about what's going on," Frazier said, speaking from an area east of Nogales, roughly a half mile inside the Arizona border. "Every now and then I'll ask a question and they'll give me a nod yes or no."

He added that donors help fund Whiskey Bravo's operation.

"I'm down here as long as I need to be here to get the story out that there are people down here, like me, who have sacrificed jobs, family, and friends to be patriots, and do what we're supposed to do," he said.
In fact, the three men became embroiled in the FBI sting after Frazier approached Border and Customs Patrol officers in January seeking information on illegal border activities. The first attempt to sting the three men in April failed when they located the target car, but failed to find the $8,000 planted inside it. A second, similar setup worked, but Frazier and his partners disappeared afterwards. Finally, the FBI agent convinced Frazier to return to Arizona with his "small team of patriots" and seize the cocaine, ending the operation.
As reported by longtime 'patriot militia' booster and apologist Gary Hunt in an attempt to control the PR damage of these arrests, Frazier also took part in the armed 'defense' of welfare rancher Cliven Bundy last April.
While there, if given an assignment, he would take charge and move the others working with him to completion. However, when left in charge in one situation where there was no oversight, he displayed unnecessary and offensive behavior by assuming that some friends of the Bundys, who were retrieving their cattle with cattle trailers, must be BLM and gave them a hard time, without verifying who they were. This was a rather embarrassing situation for the militia, though those competent people in charge were able to reconcile the situation.

It would appear, then, that though a good worker when in charge, he is not a stable leader, nor is he competent, as it appears that he does not think through the situation, or the consequence of his actions. He often talked of "kills" along the border, though most who know him doubt that he has the fortitude or the ability necessary to accomplish such a task. He has bragged about kills while in the service, though it appears that he was in an artillery unit and his entire service was stateside.

More than likely, when he conducts his own border operations, they are simple larks in the desert, with no useful purpose. He might best be described as a "wanna be". As a result, many patriots within of the border protection community chose to maintain a distance from him.
This is also not the first time Deatherage has been linked to border violence, either:
An anonymous FBI informant who has followed Deatherage and the Arizona Special Operations Group for years told KPHO that it didn't surprise him the militia member was arrested. Deatherage and another armed militia member, Richard Malley, mistook a sheriff's deputy for a drug smuggler in 2013 out in the desert; Malley was charged with aggravated assault for pointing his rifle at the deputy while Deatherage was not charged in the incident.

"I would put my retirement on the fact that there are bodies out there because of these groups," the informant told the news station.
The three men had already been under investigation since January this year when they turned out in May to support Ritzheimer, whose own rhetoric has grown increasingly violent and unhinged recently. Never too shy to play up his III-Percenter militia connections, Ritzheimer first tried and failed to sell T-shirts saying "F**k Islam," then tried and failed to raise $10 million "to protect my family" on GoFundMe. Last week, Ritzheimer posted a video in which he exulted in fantasy violence against Louis Farrakhan.
BU will stay on top of this story.