Brooks Bayne, one of the most popular white nationalists on Twitter, was indicted on two counts of aggravated assault by a Turner County, Georgia grand jury on Wednesday, August 19th.
The panel returned a true bill after hearing evidence that Bayne approached a neighbor's front door at the end of May and brandished a handgun to intimidate them.
Audio of the alleged assault is embedded above. The incident culminated an escalating series of confrontations in which Bayne's outspoken racism and open gun carrying had alarmed residents of tiny Sycamore, Georgia.
As a condition of his release after the incident, Bayne was instructed to leave town immediately, and reportedly returned to Florida, where he currently resides with his mother. Since the indictment, Bayne has posted bond, and his trial is tentatively set for the last week of October.
The Turner County law enforcement community says they handled the situation with extreme caution to forestall any perverse civil rights claims.
A new Georgia law inhibits police from asking gun carriers for their permits, complicating the process of making an arrest on a gun-related charge like this one. Sheriff Andy Hester issued an explanation on Facebook citing fear of lawsuits, and indeed Bayne is well-known for making litigation threats, though he seldom follows through.
In the audio above, you can hear him vow to obtain a court injunction over a dispute that is ostensibly about a lawn-mowing bill.
Rather than swoop down on Bayne immediately when the victims reported the crime, the Turner County Sheriff's Department investigated the report of an assault and obtained a warrant before proceeding with an arrest.
One of Bayne's victims tells BU that she still feels upset by the hours she had to wait until then, and how quickly the alleged offender was released afterwards. "(I) personally think that the court should order him to pay for our family to start seeing a therapist," Eunicia Mathis says. "It hurts my heart to see my children have fallen asleep holding knives."
The traumatic experience has also put enormous stress on her relationship with fiance Cliff Hairston, who can also be heard in the audio clip. He is the one pulling Mathis away from the door alongside her daughter, spurring Mathis to shout "don't touch me."
"How our relationship even survived that weekend, I'll never know," Mathis says. Despite Bayne's departure from Sycamore, she still feels afraid. "Any little noise you hear, we're at the window. It just don't feel like home no more."
Mathis is also unhappy at the reception she and Hairston got at the Turner County Sheriff's Department. "(The detective) treated Cliff like he was a criminal and tried to say I had invited this man onto my porch. I don't understand how I invited this man to come point a gun at me at 6:55 in the morning."
For his part, Bayne maintains that Mathis and Hairston assaulted him, and that he was forced to 'stand his ground' right in front of their door.
A history of social media trolling and a trend towards extremism
Bayne has a longstanding fascination with various methods of artificial social media enhancement. From 2007 to 2012, when he began openly airing his racial views, Bayne attracted more than 100,000 followers to his account by gaming Twitter's user limitations.
His account, @brooksbayne, is now 'protected' from view by non-followers. According to a conspiracy theory Bayne has helped propagate in the past about liberals supposedly abusing Twitter algorithms to shut down right wing and conservative voices, this tactic of 'protecting' his account avoids suspension by censorious liberals while he touts his white nationalist viewpoints. Similar conspiracy themes about social media company bias abound in right wing online communities.
But Bayne maintains that he only protected the account because he enrolled in a program that helps crime victims maintain their confidentiality and was instructed to use maximum privacy settings on his social media profiles.
Bayne has lost about a fifth of his peak audience, yet his participation in the 'cuckservative' meme, a white supremacist slur that has gone mainstream via Twitter, has brought him renewed attention in recent months.
'Cuckservative' messages shame Republicans for being too skittish about appealing to white voters, or too accommodating to minorities and immigrants.
Bayne did not invent the #cuckservative hashtag — "It's not something I coined, it's something that amuses me," he says — but Bayne has been a prominent voice within it despite his protected account.
He has also made common cause with Andrew Auernheimer, a 'hacktivist' who adopted Nazi white supremacist ideology during a stint in federal prison. Better known as Weev, Auernheimer's constant trolling of social media channels aims to create the appearance of unfair corporate censorship of white nationalist messages. Many articles at the website linked in Bayne's Twitter profile are reports on Auernheimer's activities.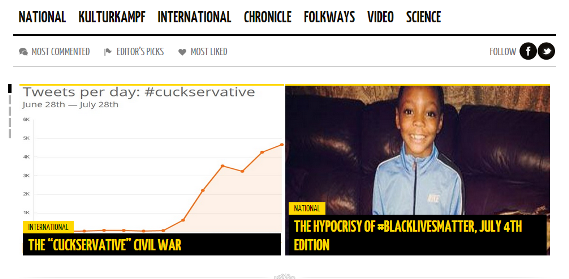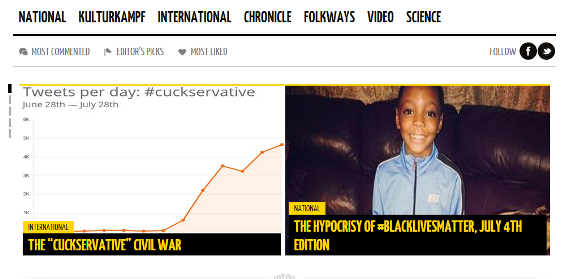 Widely loathed by progressives, Bayne was already a crowd favorite at the Stormfront white supremacist web community when he began offering a reward for President Obama's college transcripts at the end of 2011. But he reached for new heights of trolling after talk radio blowhard Rush Limbaugh's three-day tirade against Sandra Fluke in March 2012 created a strong reaction in the #stoprush advertiser divestment movement.
Despite his own Jewish ancestry, Bayne attacked Fluke's boyfriend's religious background as an example of "cultural Marxism" and began a campaign of doxing, smears, and harassment against #stoprush activists. Bayne played at least a reporting role in the brief career of Jason Wade Taylor, a violent felon who managed to 'social engineer' two feminist activists into a long con which produced tons of drama, but which failed to end the StopRush campaign as hoped.
Instead, Bayne lost key allies when he balked at carrying water for the absurd 'Kimberlin SWATing' hoax. Then, when he dared to question the sainthood of Andrew Breitbart, his increasingly-outspoken racial views made him easy to marginalize.
Lee Stranahan, who had just begun writing for Bayne's TheTrenches.us website in a bid to move on from Breitbart News, quit after only two weeks at his new job. Other confederates, such as the infamous Joanne Joy of Clark, New Jersey and Mike Stack of 'Wienergate,' also broke with Bayne in a cloud of angry recriminations.
Bayne threatened to sue both Joy and Stack for libel and harassment, but his litigation plans never materialized. Instead, as a result of threats Bayne says he received during the dispute, he enrolled in the Texas Address Confidentiality Program, which helps victims of crime keep their residential information private.
In Sycamore, Georgia, where Bayne hoped to prepare himself for the new rural lifestyle that he had planned in anticipation of future social disorder and breakdown, Bayne says he never told anyone his last name, which he has legally changed twice.
Now he holds local law enforcement responsible for Mathis having learned his surname, but Mathis says that she found Bayne's identity through a Google image search.
Small town alarmed by the armed white nationalist in their midst
Bayne's confrontation with the tiny town's black police officer began after he caused a stir at the local convenience store.
Asked by the black cashier to take his pet outside, Bayne reportedly claimed the animal was a service dog and used a racial epithet in defying the employee.
Bayne claims that he felt singled out and insulted, for he had previously witnessed other people bring dogs inside the store. He also denies using a racial epithet: "I said, 'you as a Negro here in the south probably shouldn't be insulting white people, especially over something as ridiculous as a dog being in the store."
Upon leaving the premises, Bayne says he was followed by a man in a pickup truck who tried to run him over. Brooks then reported a crime, and Sycamore's black police officer, Patrolman Tay Smith, responded. The meeting did not go well, and Bayne claims that Smith would follow him around town thereafter, sparking other tense encounters.
When he returned to the store again, witnesses say that Bayne had a pistol prominently holstered on his hip. Georgia is an 'open carry' state, and Bayne's unspoken message was repeated many times as he went about town.
"He was weird and off from the start," Mathis says. And whenever she saw him armed, Bayne had his weapon in a hip holster — except for that dramatic Friday morning when he showed up at her door.
This time, she says the gun was hidden in the small of his back, where she couldn't see it until he was holding the weapon in her face.
For his part, Bayne denies the gun was anywhere except in its usual spot at his hip, and asserts that Mathis's hand got very close to it while she was allegedly assaulting him in her doorway, causing him to fear for his life.
Bayne also says that his knee injury prevented him from simply backing down the steps of the porch a few feet behind, forcing him to 'stand his ground' instead.
Bayne's mother owns the house next door to Mathis, who received $100 a month from Bayne's family to cut the grass on the property. During the confrontation, Bayne accused her of being two months behind in services rendered.
Mathis maintains that she only owed Bayne's family one cut, and that she was ready to do it whenever Bayne asked.
The situation had escalated in the days before the alleged assault when Bayne made remarks about Mathis and her fiance being "too redneck," saying that he needed to build a privacy fence.
After hearing Bayne's insults, Mathis decided to research him on the internet, talked to another resident who had befriended Bayne, and later posted the links she had discovered on her Facebook wall. These actions triggered Bayne into showing up at her door.
Because she occasionally deals with an unrelated family situation from time to time, Mathis keeps her tablet ready by the front door to record difficult interactions, and so was able to capture the audio above.
Her family, who all witnessed the alleged assault on their front porch, say that Bayne needed their help moving into the residence next door because of his nagging knee injury, and seemed friendly enough at first when he paid the children to carry his belongings into the house.
But in spite of Bayne's efforts at friendship with the kids, even taking them to Subway for meals, Hairston's daughter Savannah says she felt troubled by a very odd conversation she had with him.
After she joked about admiring Adolf Hitler because her recent schoolwork had included the topic of the Holocaust, Bayne "just said that he liked Hitler and stuff thinking he was a great person and what he did was good. He hated homosexuals also because that is something he said that he liked about Hitler."
Defendant blames police prejudice, drugs, and small-town politics
Already keen on not returning to Sycamore for any reason, Brooks Bayne maintains that the town never even gave him a chance, and that he is the victim not only of prejudice against the outsider, but local political alliances which look down on his right wing ideology.
Bayne says the person who almost ran him over while walking home from the store was a known felon, but he was never arrested because he is the brother-in-law of a sheriff's department employee.
Maintaining that all the principle leaders involved are Democrats, Bayne claims that acquaintances working in the Turner County Sheriff's Department have privately agreed with him that Officer Tay Smith and Chief Lee Ann Clark were inappropriately hostile.
Bayne claims that his family has a longstanding disagreement with Clark over her brusque manner, and that Clark's past officer certification problems are a sign of deep personal corruption. He says Clark formed an intense and improper dislike for him at their first interaction, when she made him leave the town gun range.
In leveling his charges at Clark and Smith, Bayne says he developed a friendship with a town worker, Brian Coleman, who informed him that Smith had openly bragged he would "get that motherfucker" in reference to Bayne.
Bayne also incurred a dispute with the town and its police when he erected barriers to prevent trucks from cutting the street corner through his yard. Bayne says that Chief Clark threatened him with fines until Sycamore's mayor told her to "stand down," whereupon the community put up barriers of its own.
Bayne says he had planned to attend the next council meeting in order to make his accusations against the Sycamore Police Department public, but he never got that opportunity.
Instead, Coleman informed Bayne that Mathis was posting old links concerning his past activities on her Facebook page. Angered by the exposure, Bayne met with Hairston and asked him to intervene. But then Mathis responded in a Facebook message and Tweeted a screenshot of her Facebook wall posts at Bayne.
@brooksbayne Excuse you new neighbor? All you had to do is come to me or send me a friend request. STOP TROLLING! pic.twitter.com/k4n5rn8QYt

— E Mathis (@IamEunicia) May 29, 2015
Bayne admits that he wanted to confront Mathis over his various frustrations when he knocked on her door that morning, but says that he merely wanted to cut ties. He counters that Mathis launched a flurry of blows at him in the doorway, leaving injuries which he says were documented afterwards.
The audio recording, which BU has amplified for ease of listening, does not seem to capture the sound of any such blows. But it apparently does record Bayne grunting, possibly in the act of drawing and aiming his pistol, just before Mathis's daughter and fiance pull her back from the doorway.
Alleging that Hairston threatened to kill him repeatedly during the moments that both men are audible on the recording — and during which time the whole family saw Bayne holding his gun in Hairston's face — Bayne insists that he was never the hostile party during the incident.
He also claims sheriff's detectives agreed with him that what happened was a "clear case of self-defense," and that "Cliff and Eunicia are lying."
But just as thorough policework may have seemed onerous to Mathis and Hairston when the sheriff's detective wanted to see if their stories would hold up under pressure, Turner County law enforcement sources say that Bayne is mistaking standard interrogation techniques for an unofficial endorsement of his version of events.
Bayne says he plans to take civil, and perhaps federal, court action in defense of his rights. He also claims that Mathis and her fiance suffer from poor impulse control because they are addicted to crystal meth, a charge both adults and their children vigorously deny.
Chief Clark is just relieved that Bayne has left town. "I'm glad he's out of the city. I'm glad he's no longer here. With everything that's going on with police officers nowadays, I see him as a threat to society. I told the mayor, I contacted the Sheriff's Department, I said anytime you have someone who expresses that kind of hate you're going to have issues."
She dismisses Bayne's notion that the Sycamore Police Department and the Turner County Sheriff's Department are at odds. "There's no divide between us. I've had to call for backup and they responded quickly." In fact, she sees the investigation and Bayne's arrest as an example of close interagency cooperation: "It was a joint effort."
With Bayne having departed for good, Mathis is relieved on behalf of everyone in Sycamore, not just herself. "For the sake of my town, I'm glad that man's gone."