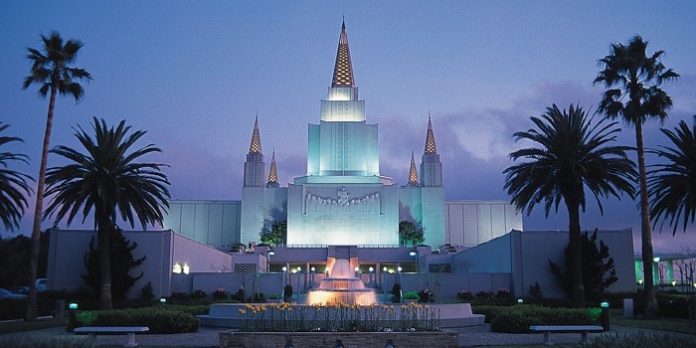 As one of the sponsors of Proposition 8 during the 2004 election cycle, the Church of Jesus Christ of Latter-Day Saints has never exactly stood at the vanguard of human rights for LGBTQ Americans.
But a new policy to ban christenings for the children of same-sex couples, and excommunicate Mormons who are married to the 'wrong' gender, seems to be the final straw for thousands of people.
More than 1,300 people have confirmed via Facebook that they will participate in in a mass-resignation being planned for tomorrow in Salt Lake City, Utah, and thousands more around the country are reportedly tendering their own resignations.
Unlike most religions, leaving the LDS church is not as simple as walking away, for church leaders have erected a complicated and difficult process in order to discourage resignations and keep membership numbers inflated.
One Salt Lake City-area attorney, Mark Naugle, is offering free legal help to disillusioned Mormons. "People are fed up and just don't want their name associated with the church any more," Naugle told NBC News.
As David Badash reports at New Civil Rights Movement, church leaders are scrambling to put a softer face on their harsh policy.
"If there's one thing that virtually all Christians agree on, it's Jesus Christ's tender love of children," [a web post by the church's Managing Director of Public Affairs] begins. It also blast the leak of the new section and new rules, claiming it "demonstrates clearly the dangers of drawing conclusions based on incomplete news reports, tweets and Facebook posts without necessary context and accurate information."

"Church leaders want to avoid putting little children in a potential tug-of-war between same-sex couples at home and teachings and activities at church," the post also claims, stating that these rules regarding children of same-sex parents only apply to children being raised in the homes of same-sex parents. In other words, if a child is raised by a mother who was married to a father who is gay and no longer in that home, the child can be treated as all other Mormon children. 

Let that sink in for a moment. [Emphasis mine]
Of course, this exodus of progressive-minded people will probably deepen the anti-gay bigotry within the LDS church and solidify its image as a conservative institution. Just like failed prophecies, which only tend to make the most affirmative believers even more dedicated to their beliefs, very large organized faiths seldom ever 'learn lessons' from schisms and splits, so we are much more likely to see the LDS Church respond to this event with redoubled opposition to marriage equality than observe any amount of contrition from its elders.