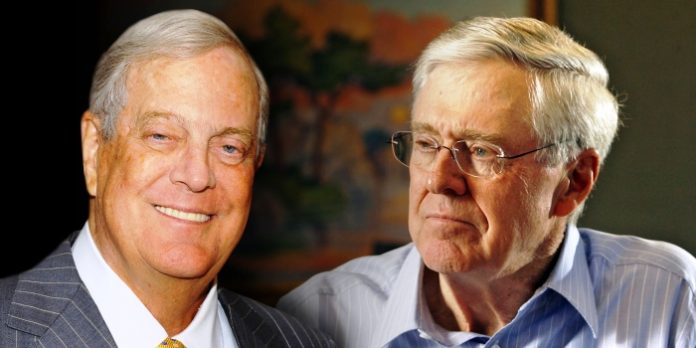 At POLITICO, Kenneth Vogel discloses the existence of a secretive "competitive intelligence" operation within the Koch brothers' political network created to spy on their political enemies.
The competitive intelligence team has a staff of 25, including one former CIA analyst, and operates from one of the non-descript Koch network offices clustered near the Courthouse metro stop in suburban Arlington, Va. It has provided network officials with documents detailing confidential voter-mobilization plans by major Democrat-aligned groups. It also sends regular "intelligence briefing" emails tracking the canvassing, phone-banking and voter-registration efforts of labor unions, environmental groups and their allies, according to documents reviewed by POLITICO and interviews with a half-dozen sources with knowledge of the group.

The competitive intelligence team has gathered on-the-ground intelligence from liberal groups' canvassing events in an effort to assess the technology and techniques of field efforts to boost Democrats, according to the sources. And they say the team utilizes high-tech tactics to track the movements of liberal organizers, including culling geo-data embedded in their social media posts.

Such stealth activities are the kind that campaigns and party operatives often fantasize about but mostly shy away from ― both because of cost and potential political backlash if exposed.
And who knows what lurks beneath this sanitized, journalistic surface? I've spent years trying to raise the alarm about operational security within liberal circles in full expectation of this trend. When billionaire industrialists set out to buy democracy and stifle American governance, they do not stop short of destroying their enemies personally and professionally with a full range of tactics, which get worse the more desperate they are to win. And given their pledge to spend a billion dollars on elections next year, don't be surprised if Charles and David Koch risk some "political backlash" with all manner of shady, clandestine activity — it's in their interests, after all.