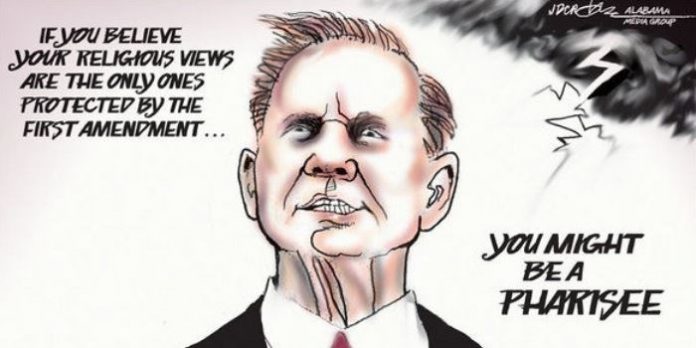 Roy Moore, the chief justice of Alabama's supreme court, has done it again. Issuing an administrative order today, Moore has tried to restore his unilateral ban on couples of the same gender getting married in the Heart of Dixie.
After a federal judge struck down Alabama's 2006 voter referendum against same-sex marriage last February, Moore ordered state probate judges to refuse to issue marriage licenses to LGBT couples, a contradiction that created chaos in courthouses across Alabama.
Referring to that order today, Moore makes a rather incredible claim that the Supreme Court's historic Obergefell decision somehow does not apply to Alabama:
The United States Court of Appeals for the Eighth Circuit recently ruled that Obergefell did not directly invalidate the marriage laws of states under its jurisdiction. While applying Obergefell as precedent, the Eighth Circuit rejected the Nebraska defendants' suggestion that Obergefell mooted the case. The Eighth Circuit stated: "The [Obergefell] Court invalidated laws in Michigan, Kentucky, Ohio, and Tennessee — not Nebraska." Waters v Ricketts, 798 F.3d 682, 685 (8th Cir. 2015) (emphasis added). In two other cases the Eighth Circuit repeated its statement that Obergefell directly invalidated only the laws of the four states in the Sixth Circuit. See Jernigan v Crane,796 F.3d 976, 979 (8th Cir. 2015) ("not Arkansas"); Rosenbrahn v Daugaard, 799 F.3d 918, 922 (8th Cir 2015) ("not South Dakota").
That is one of the most disingenuous paragraphs Moore has ever written. He has cited three cases in which plaintiffs sought to overturn state laws against their marriages before Obergefell, then the states wanted their liability for attorney's fees and damages mooted by Obergefell, but the Eighth Circuit left them on the hook.
In other words, Moore says that the Eighth Circuit has validated his notion that the Supreme Court's decision does not apply to Alabama, but that is not the correct reading of these decisions, all of which uphold the right to marry.
Moore, who has longstanding ties to right wing extremists including the white supremacist League of the South, also has a long history of projecting his anti-LGBT bigotry from the bench — especially when the welfare of children is involved.
In 2002, he awarded custody of three kids to their abusive father because he considered their lesbian mother "inherently evil" and therefore "unfit." Last September, Moore's kangaroo court bent over backwards to ignore the full faith and credit clause of the US Constitution so they would not have to recognize a lesbian couple's Georgia adoption.
But even the most petty matter is never too low for Moore to stoop if it will hurt a gay person. Pursuing a rearguard strategy of 'death by a thousand cuts,' Moore's Foundation for Moral Law has tried to rewrite state inheritance laws for surviving same-sex spouses, for example.
While he once again injects confusion and chaos into courthouses across the state today, Moore claims to be restoring order and uniformity. Conservatives always bemoan 'judicial activism,' but what are we to make of Moore's specious citations and systematic mendacity?