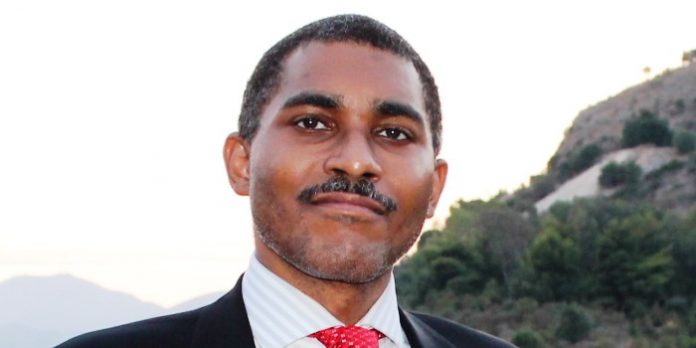 Cary Lee Peterson, the creator of a super PAC that claimed to support Sen. Bernie Sanders of Vermont in his Democratic presidential bid, was arrested and charged with securities fraud last week. That's a good thing, because Peterson is a prime example of the blatant fraud that goes on in the Age of Dark Political Money.
According to court documents, Peterson filed false quarterly and annual reports with the U.S. Securities and Exchange Commission in 2012 and 2013 that said the company, RVPlus, had a green energy contract worth $1.8 billion with a ministry of Katsina state in Nigeria.

In addition, the company also reported in SEC filings that it had deals with the Liberian and Haitian governments, records show. The records indicated the company had millions of dollars in accounts receivable.
You can read the charges here. Essentially, Peterson is accused of using fake profits to sell fake company stock, using fake news about fake 'green energy' deals in Africa and Haiti. The United Nations demanded that Peterson stop claiming his company was an "affiliate" of the U.N. Convention on Climate Change in order to inflate his fake market. Because his fakery was apparently endless, the Securities Exchange Commission has also filed a civil action.
Peterson had also been in the news last year for his political action committee Americans Socially United, which originally operated as Bet on Bernie 2016. Peterson ignored two cease-and-desist notices from Bernie 2016 Inc., the candidate's official campaign committee, regarding Peterson's online fundraising, organization name, and use of official logo designs. But he had to comply with Federal Election Commission rules that prohibit candidates' names from appearing in PAC names — one of the few regulations that the FEC is still able to enforce.
Peterson reportedly managed to trick James Bond star Daniel Craig into making a $47,300 contribution to Bet on Bernie 2016, but he was hardly the only victim of the scheme.
According to the FEC, the Americans Socially United committee filed one report, in September of last year, saying it raised about $90,000 in contributions through June, much of it in the form of "in-kind" donations where services are contributed instead of cash. It also returned $54,000 to donors, listing explanations that payments had the "incorrect payee name" or that donors were not U.S. citizens. It has not filed any subsequent reports.
The Center for Public Integrity talked to other donors who thought they were donating to help the Sanders Campaign. But unlike Peterson's securities fraud, the 'pro-Sanders' super PAC scam was completely legal. Remember, political action committees get to spend unlimited sums in support of a candidate as long as they do not coordinate that spending with the actual campaign. And because the candidate is not supposed to influence the PAC, there's no rule that requires PACs to actually spend their money on the candidates they ostensibly support. They can pretty much do what they like with it.
Ben Carson encountered this phenomenon last year when super PACs pretended to boost his campaign.
Two independent super PACs designed to help Carson are instead competing directly with Carson's campaign for donations and volunteers, while campaign chairman Terry Giles resigned last month with the intention of forming a third super PAC.

Giles said he intends to try to convince the other two super PACs, called Run Ben Run and One Vote, to cease operations so that all outside efforts can be coordinated through the new group. But with Carson's brand a galvanizing force on the right, there are potentially millions of dollars to be raised off his name, and the other super PACs are said to be reluctant to shut down.

"They are going after the same small donors, and we've simply got to figure this out or else we are going up against each other the whole time," Giles said. "I'm planning to sit down with them and explain that."
Bear in mind that Carson was the clear winner in the donor game last year, raising more hard money than any other candidate. Yet rather than invest in staff or GOTV efforts, he spent much of it on building direct mail lists, which is a great way to make money later, but a terrible way to build electoral momentum now. Consultants also enriched themselves through his campaign by using connected vendors.
Cary Lee Peterson was operating within a system that was purposefully designed to allow this sort of crass political profiteering. A handful of professionals like Dan Backer have worked hard to render the FEC incapable of regulation or enforcement. Backer, whose past legal handiwork includes the Supreme Court decisions that created 'hybrid super PACs' and raised limits on contributions to candidates, constantly pushes the envelope — for example, by fighting to circumvent the rule against candidate names appearing in PAC names.
Conducted in the name of free speech (because money is speech), this libertarian paradigm is making it possible for future Petersons to run their confidence schemes in broad daylight, on both sides of the street, unafraid of the consequences because there are none.