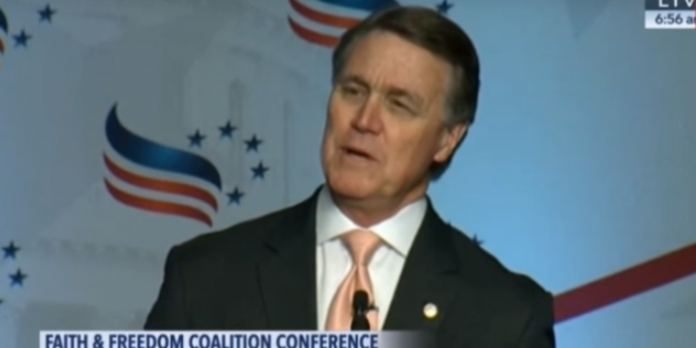 If you were wondering how reality show racist Donald Trump has managed to win over evangelical voters, wonder no more.
Sen. David Perdue, a Republican from Georgia, invoked a biblical passage today as he told attendees of the Faith & Freedom Coalition's  'Road to Majority' conference to pray for Obama's death.
"In his role as president, we should pray for Barack Obama, but I think we need to be very specific about how we pray. We should pray like Psalm 109:8 says: Let his days be few," said Perdue, quoting verses known to Christians as 'the Judas psalm.'
Betsy Woodruff was on the scene reporting for The Daily Beast.
As the Washington Post's Dave Weigel pointed out, conservatives have long invoked this verse in the yearning for an end to Obama's days in office. A Christian Science Monitor report from November 16, 2009, detailed the popularity of bumper stickers that read simply, "Pray for Obama: Psalm 109:8."

"It's protected speech, but it's clearly offensive," the Anti-Defamation League's Deborah Lauter said at the time.
A form of 'imprecatory prayer,' the associated verses call for the systematic erasure of one of King David's personal enemies, including a vindictive suffering and hopelessness for their entire family.
8 May his days be few;
    may another take his place of leadership.
9 May his children be fatherless
    and his wife a widow.
10 May his children be wandering beggars;
    may they be driven from their ruined homes.
11 May a creditor seize all he has;
    may strangers plunder the fruits of his labor.
12 May no one extend kindness to him
    or take pity on his fatherless children.
13 May his descendants be cut off,
    their names blotted out from the next generation.
14 May the iniquity of his fathers be remembered before the Lord;
    may the sin of his mother never be blotted out.
15 May their sins always remain before the Lord,
    that he may blot out their name from the earth.
Reactions were swift. Here are a spokesman for Sen. Harry Reid and Jamelle Bouie of Slate.com:
Republican Senator David Perdue is praying for President Obama to die.

This is why Trump is the GOP nominee. https://t.co/tHej9VNlaI

— Adam Jentleson (@AJentleson) June 10, 2016
https://twitter.com/jbouie/status/741276061451878400
The Faith & Freedom Coalition is a creation of legendary conservative organizer Ralph Reed, who was the first executive director of the infamous Christian Coalition.
Reed told Fox Business News yesterday that Donald Trump "shares [evangelical] views on certain core social, cultural and moral issues, life, marriage, support for the state of Israel, opposition to the Iran nuclear deal and support for religious liberty," opining that the irreligious Republican nominee should "be himself" instead of trying to quote scripture.
Responding to press queries regarding Perdue's remarks, conference organizers gave a statement to Bloomberg's Sahil Kapur denying that the senator had prayed for Obama's death, expressing an aggrieved innocence.
"We should add the media to our prayer list," the statement sniffs, "because they are pushing a narrative to create controversy and that is exactly what the American people are tired of."
David Perdue spokeswoman Caroline Vanvick responds in an email: "He in no way wishes harm towards our president" pic.twitter.com/PPj5jtZv0n

— Sahil Kapur (@sahilkapur) June 10, 2016
Here is the video of Perdue speaking via Right Wing Watch. Draw your own conclusions: