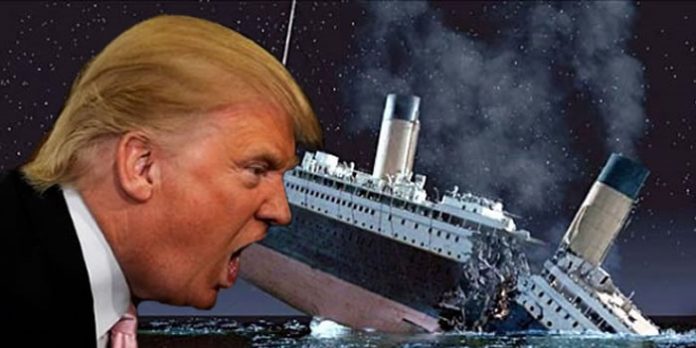 Stung by criticism of their father's flagging campaign, fraudulent billionaire and reality show star Donald Trump's children convinced the presumptive Republican presidential nominee to fire controversial campaign manager Corey Lewandowski today.
But the move is unlikely to stop Trump from pulling his campaign down into the depths of defeat. Since BU published a 5,000-word analysis of Trump's self-inflicted woes last Tuesday, further reporting has confirmed and highlighted our main points regarding the weaknesses of his campaign — and traced them straight to the candidate himself.
In fact, the focused criticism that Trump has received for slow fundraising, tardy hiring, and incompetent micromanagement seems to have finally convinced his children to intervene over the weekend. Having earned their enmity months ago, Lewandowski arrived for a Monday morning meeting and walked into an ambush.
Shortly after it began, the children peppered Lewandowski with questions, asking him to explain the campaign's lack of infrastructure. "They went through the punch list. 'Where are we with staffing? Where are we with getting the infrastructure built?'" one source explained. Their father grew visibly upset as he heard the list of failures. Finally, he turned to Lewandowski and said, "What's your plan here?"

Lewandowski responded that he wanted to leak Trump's vice-president pick.
After dragging his feet on get-out-the-vote efforts and swing state staffing, this was the wrong answer to give. Ever the showman, Trump wants to withhold his vice presidential choice until the convention in order to maximize attention and drama. Shortly after his final mistake, security escorted Lewandowski out of Trump Tower.
I'm told that also intimately involved in getting Corey out was Trumps son in law Jared, who has a large and growing behind the scenes role

— Dana Bash (@DanaBashCNN) June 20, 2016
Lewandowski denies that the Trump children were instrumental in his firing.
According to Gabriel Sherman at New York magazine's Daily Intelligencer, this scene was the culmination of weeks of backroom drama as Lewandowski fought for control of the campaign against right wing elections wizard Paul Manafort, whom Trump had brought on to manage his coronation at the Republican National Convention. The turning point reportedly came when Lewandowski, who began his work for Trump with no experience running political campaigns, started attacking the families of his boss's adult children.
Sources said one of Lewandowski's mistakes was leaking dirt about Ivanka's husband, Jared Kushner, to reporters. Word of Lewandowski's whisper campaign made its way back to Manafort allies. Other Lewandowski detractors told Trump that the soap opera around Lewandowski was getting the campaign off message. And they were also frustrated that Lewandowski seemed to encourage Trump's worst behavior, including his attempts to delegitimize the Indiana-born federal judge presiding over the Trump University by describing him as a "Mexican."
"Corey Lewandowski will no longer be working with the campaign," reads the anodyne press release from Trump campaign spokeswoman Hope Hicks today. "The campaign is grateful to Corey for his hard work and dedication and we wish him the best in the future."
A young PR professional who came to the campaign through her work on Ivanka's fashion line and reportedly had a stormy relationship with Lewandowski herself, Hicks is living proof that firing the campaign's manager will not resolve all of its issues.
Getting the most out of the star requires keeping him informed. While Trump nurses an obvious addiction to cable news, the reading that's put in front of him is largely confined to a topic he already knows well. Every morning, staffers print out 30 to 50 Google News results for "Donald J. Trump." He then goes at the sheaf with a marker, making circles and arrows and annotating things he likes or doesn't like. The defaced article gets scanned and e-mailed to the journalist or the person quoted who has drawn Trump's attention, under the subject line "From the office of Donald J. Trump."

As for what arrives in Hicks's in-box, a typical day brings upwards of 250 media requests. Usually, she alone decides who gets in and who's kept out. But sometimes it's Trump who plays bouncer for his own private party. "She sees the tantrums, and there are tantrums," a source who's been with Trump and Hicks told me. "He reads something he doesn't like by a reporter, and it's like, 'This motherfucker! All right, fine. Hope?' He circles it. 'This guy's banned! He's banned for a while.' That's exactly how it works." Hicks plays parole officer to an extensive and expanding blacklist of outlets and reporters (your correspondent once included) no longer welcome at his events.

While Hicks is often eager to please, she doesn't mind upsetting the media and harbors no reverence for the civic duties of a free press. When reporters send her questions, she's often irked—convinced they're playing detective merely to irritate the campaign. She's seemingly unaware that they might just be vetting a potential United States president. Often she doesn't respond.
While Lewandowski was certainly an impediment to Trump's success, Manafort must pull off a miracle during the next few weeks to have any hope of resurrecting his campaign. Clearly, he will need to hire a far larger communications staff — and find some way to get the candidate to focus on more important matters than which new outlets have made him angry today. Trump desperately needs new surrogates on longer leashes, because Republicans running for reelection want to stop getting so many reporter questions about awful or stupid things that Trump has said.
Ding dong the witch is dead! https://t.co/pSqQwmAGz1 pic.twitter.com/5dE7GMeEK6

— That Michael Caputo (@MichaelRCaputo) June 20, 2016
So despite celebrations within Trumpland, Manafort's biggest remaining challenge is his candidate, who seems determined not to make any sort of 'pivot' towards the general election in November. As Charlie Pierce explains at Esquire, there are two interest groups still holding out hope that Trump will reverse course: the GOP, who stand to lose control of Congress, and the media bobbleheads who are eager for a horse-race to cover.
There seems to be a persistent—and entirely unjustified—flicker of optimism within some Republicans, and within far too many people in my business, that if they can only get the right people around the vulgar talking yam, they might be able to save the party and themselves from the onrushing cataclysm.
Although Lewandowski is a convenient scapegoat for Donald Trump's recent episodes of racism, Islamophobia, and infighting with Republicans, the candidate himself is easily goaded, pugilistic, and lacks a filter. His worst attitudes are his most genuine, while his appeals to the groups he marginalizes are clunky and insufficient. To improve as a general election candidate, Trump requires the kind of close handling and polishing that he ordinarily rejects, and that doesn't sit well on him.
For example, a teleprompter only highlights his flaws as a speaker. And whereas Lewandowski once grabbed a reporter's arm and left bruises, Trump's infamous rallies will continue to be violent affairs even without his presence. He will continue to say irresponsible things in reaction to the news cycle. The right time to fire Lewandowski was at least three months ago; nothing else important has changed today, and if the Trump campaign exhibits that same learning-curve in the next 30 days, then November is going to be a historic electoral disaster for the Republican Party.
Call it 'The SS Trumptanic.' No matter how much you rearrange the deck chairs, the band can only play for so long before a cold, wet reality sets in.