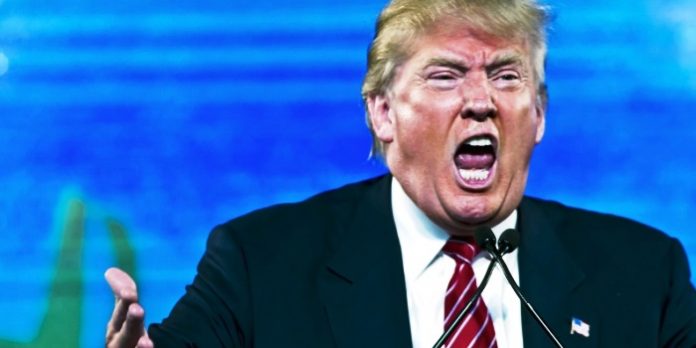 Curious to find out just how much progress the Trump campaign has made in their belated efforts to erect a genuine presidential campaign machine, Huffington Post reporters Sam Stein and Elise Foley called their listed phone numbers in all 50 states. The results were entirely predictable.
A few of the state operations had no websites or no numbers listed. Many of the other numbers didn't work. When we left voicemails, we didn't get callbacks.

On only six occasions did someone actually answer the phone. And in several of those instances, the person who picked up explained that a physical office would be opened up only after the convention.

[…] Fourteen of the state websites list numbers for the Trump headquarters in New York City ― 15, if you count the New York state website ― rather than for campaign offices within the state.
Surprised? You shouldn't be. For several weeks now, political observers have warned us the Trump campaign is more theory than fact — that sluggish hiring and lackadaisical management were allowing Hillary Clinton's well-oiled machine to leave him far behind in terms of fundraising, get out the vote (GOTV) activity, endorsements, and 'war room' responses to the news cycle. Although there were assurances of rapid improvement just around the corner, two days ago the Associated Press found that nothing has changed.
Ohio Republicans thought they were going to see 220 paid staffers by May; in reality there are about 50. Plans for Pennsylvania called for 190 paid staffers; there are about 60. Iowa's planned ground force of 66 by May actually numbers between 25 and 30. In Colorado, recent staff departures have left about two dozen employees, far short of the 80 that were to have been in place.

[…] The gulf between what state leaders thought they could count on and what they've actually got comes as RNC's ground game is asked to do more than ever before. Presumptive nominee Donald Trump is relying on the party to do most of the nuts-and-bolts work of finding and persuading voters in the nation's most competitive battlegrounds.
Trump's decision to ignore the work of modern campaigning, and give the entire business of data-driven politicking over to the Republican Party, arises from his deep contempt for pollsters and political science. While the AP's Steve Peoples and Julie Bykowicz spoke to enthusiastic party operatives who put the best possible face on their mission, in the likely event that Trump is defeated, the 2020 GOP nominee will probably want to resume responsibility for their own electoral strategy, effectively wasting the party's efforts to make up Trump's surrendered ground this year.
Nor has Trump improved enough at the money game. More than a month ago, GOP operative Spencer Zwick defined a six-week window in which the reality show candidate could potentially ramp up his fundraising efforts. Trump's abysmal fundraising numbers for May have improved in June and July, but he still lags far behind Clinton in the financing race, and there will be very little time for raising money after the conventions. Rather than redouble their efforts, however, the Trump campaign has surrogates spinning the fiscal imbalance as proof he can win with one hand tied behind his back.
Trump will "never need to catch up to Hillary Clinton, because she'll never catch up to him in terms of just the sheer dynamism and magnetism, that historic, really unique, singular type of candidate that he is," [senior adviser Kellyanne] Conway explained.
Translation: Trump will keep relying on 'earned media' rather than TV ads, keep holding rallies instead of conducting any real GOTV operations, keep failing at every contemporary measure of political campaigns.
Were the election held today, Hillary Clinton would win handily, but the first polls conducted in August will tell us more about what to expect in November than any survey conducted before today. In fact, it is very likely that the course of the general election will be unalterably set within the next two weeks — that no amount of debating or campaigning after the conventions will change the diverging 'glide paths' of the two major party candidates.
Whereas the Democratic National Convention will be little more than a showcase event, the Republican National Convention is already turning into a fiasco. The list of Republican officeholders who will not be attending in Cleveland has grown long and fast, while the list of confirmed speakers is overdue and rather short. Paul Manafort, the political director who appeared to have won his months-long power struggle with campaign manager Corey Lewandowski when he was fired a few weeks ago, has plenty of experience stage-managing the RNC, but he's just one man working without sufficient staff.
The fact that no one has stepped into Lewandowski's role yet speaks volumes about the kind of leadership Trump is exercising over his campaign — such as it exists.
His decisions will have a tremendous downballot impact. Congressional Democrats enjoy a broad national lead in polling, stand to win back the Senate, and even have a growing chance to regain the House of Representatives. Sure, it's possible for Republicans to hold on to what they have in November without an effective standard-bearer, but the party is definitely going to suffer some damage, and many Republicans are already bracing for impact.