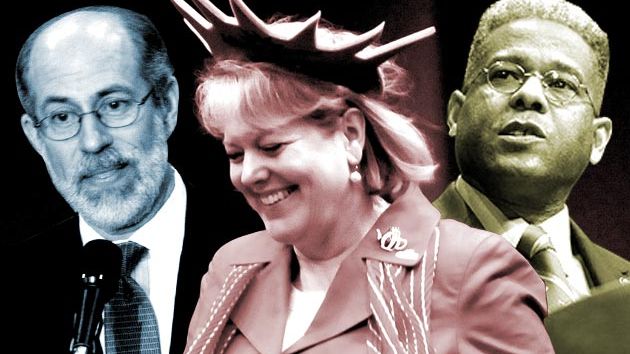 Judicial Watch, the conservative group who once held private meetings with Groundswell Group members in their offices in their 40 front war to destroy liberal organizations, is continuing their attempts to ruin Hillary Clinton, now using a 60 minutes interview (below) last week to try to see if any Freedom of Information Act laws were broken. First the IRS scandal, then Benghazi, then Email servers. Will there ever be an end to this Hillary bashing? Will there ever be an end to smearing her?
Judicial Watch says new information was gleaned from an interview with CBS' Scott Pelley including the fact that Clinton admitted thatsomeone recommended she set up the server. The group wants to know who that someone was and contends her statement provides further reasoning for why she must be deposed under oath.  Clinton's lawyers say that issue is "irrelevant."

"If the State Department official, such as the executive secretary or the legal advisor, recommended that Secretary Clinton use a non-state.gov system for State Department business, such evidence could demonstrate the State Department's role in the decision," attorneys for Judicial Watch wrote in a motion, "Similarly, if someone who understood the secretary's FOIA obligations recommended Secretary Clinton's use of the system, such evidence could suggest that the motivation was more than just convenience."
Judicial Watch is a conservative organization that makes its living off of suing liberals and liberal organizations for what they claim is potential wrongdoing. Clinton's attorney, David Kendall, has already fired back in his own motion.
"Judicial Watch claims to want to know who recommended that using private email would be convenient. As counsel to Secretary Clinton has previously explained, however, Judicial Watch, is not entitled to FOIA discovery, let alone a deposition of a former Cabinet Secretary, merely to satisfy curiosity," Kendall wrote.

Federal Judge Emmet Sullivan will decide whether Judicial Watch will be able to depose Clinton.