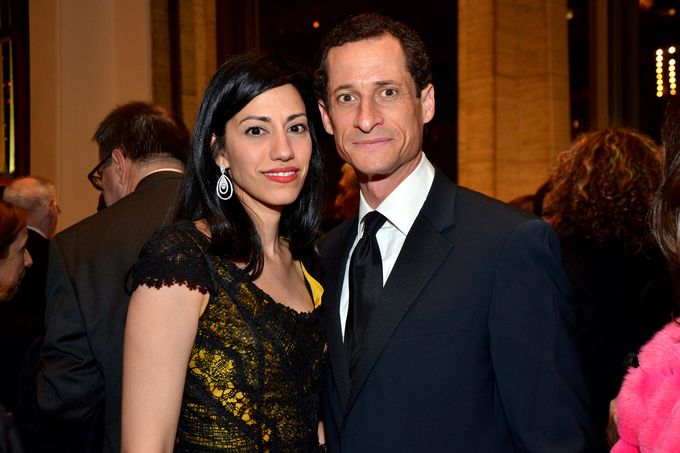 Filed under dumbass scumbags, Anthony Weiner struck out again by sexting another women, this time in his underwear with his son in attendance. Talk about needing an intervention of some sorts. Weiner seems addicted to Twitter and women he finds online. But I think interventions are not even going to work on this idiot. The guy has no moral compass, and I don't think he ever did. Not only that, he can't even hold onto the woman who stood by him for years after he screwed the pooch numerous times on Twitter. The guy is like a snake in the grass. He just can't control himself. And Huma could do so much better anyway. From Bloomberg:
Huma Abedin, a longtime aide to Hillary Clinton, announced she's separating from former U.S. Representative Anthony Weiner following a report that he again exchanged sexually charged messages with another woman.

"After long and painful consideration and work on my marriage, I have made the decision to separate from my husband," Abedin said in a statement. "Anthony and I remain devoted to doing what is best for our son, who is the light of our life. During this difficult time, I ask for respect for our privacy."

The decision comes after the New York Post on Monday published a photo of an underwear-clad Weiner and his son, Jordan, across its front page, reporting that Weiner had sent the photo to a woman he'd met online. Weiner resigned from Congress in 2011 after being caught sending racy messages and photos to women he met online. He was found to be doing the same again during his 2013 race for New York City mayor.

In a recent interview with the New York Times, Weiner declined to answer a question about whether he was "still engaging in the activities" that had gotten him in trouble in the past. "I'm not going to go down the path of talking about any of that," he said.
Dude, whatever path you went down long ago was the path to destruction. Wake up, its over, you will probably end up a Walmart greeter at the end of the day. And even then, you will just be there as a curiosity piece.Maybe you can work Christmas at the Salvation Army ringing the bell or something. You have lost all respect anyone ever had for you. Your 15 minutes are over Weiner. Goodbye and Good Riddance to you.