On this, the day after the ground-breaking "Commander in Chief" forum on NBC/MSNBC, one of the more oft-heard criticisms of former Secretary of State Hillary Clinton's performance is that "she did not smile enough."
Some folks think that's a sexist criticism. Others say its misogynistic. We disagree with both. True, many of our readers probably are not oid enough to remember 1974 when Howard K. Smith and David Brinkley both suggested that President Nixon could have avoided having to resign as a result of the Watergate scandal if he had only dressed up a bit prettier and smiled more.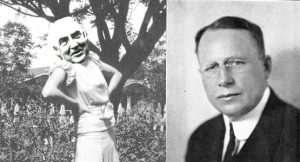 That criticism goes all the way back to the 1920 presidential election when Warren Harding beat Democratic candidate James Cox by showing up at public events wearing long, flowing gowns while Cox wore traditional business suits. The flamboyance of the Republican easily overwhelmed the staid Democrat whose campaign slogan of, "I Like Cox" failed to catch on with the voters.
It is with these criticisms in mind that we turned to our old friend, Stogie Carbuncle, and asked him to come up with a song to inspire the former Secretary of State to add a bit of girlish charm to her campaign.

We hope this helps.