Sleep easy tonight, America. Donald Trump, the GOP Presidential Nominee, has vowed there will be no more weaponized pressure cookers secreted in trash cans once he becomes president.
Trump couldn't resist blaming President Obama and Democratic Nominee Hillary Clinton for the explosion in Manhattan on the evening of Sept. 17 that injured 29 and the bomb that did not explode that was discovered several blocks away.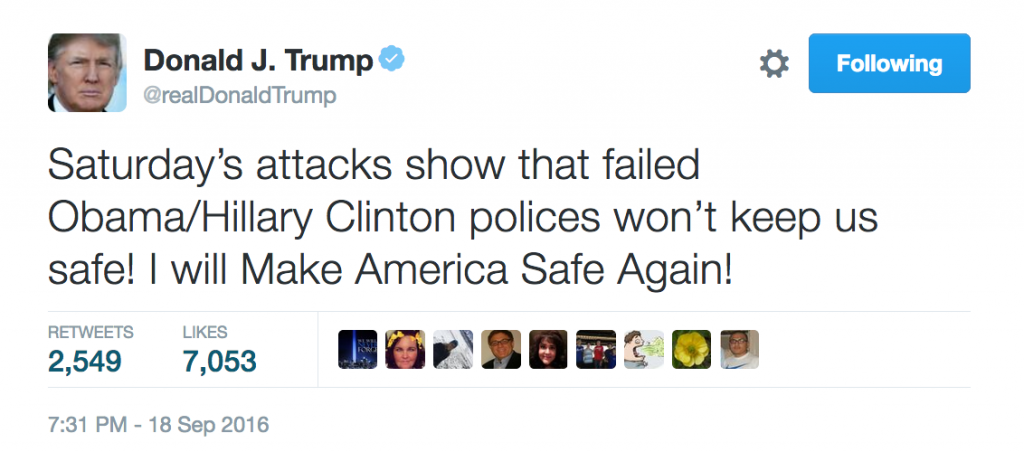 We can only imagine the executive orders President Trump will sign on his first day in office. First will be the outlawing of the purchase of pressure cookers, duct take, wires and cell phones, not to mention little pieces of metal that can be used for shrapnel. Then, President Trump will mandate a Trash Can and Dumpster Security Force to watch every trash can and dumpster in every city in the United States on a 24/7 basis. This will also serve a double purpose of ensuring that no illegal immigrants are hiding in the receptacles.
And let's look at the shameful record Trump exposes concerning how few victories America has experienced in the "War on Terruh" compared to the number of successful terror attacks on our home soil.
Here is a list of top Al Qaeda or Taliban or ISIS leaders who have shuffled off the mortal coil, ceased to be, joined the choir invisible or otherwise are "pining for the fjords" since May 2011.
Abu Muhammad Adnani | Islamic State
Death announced Aug. 30, 2016

Hafiz Saeed Khan | Islamic State
When: July 26, 2016

Mullah Akhtar Mohammad Mansour | Taliban
May 21, 2016

Rahman Mustafa Qaduli, a.k.a. Abu Ala Afri and Haji Imam | Islamic State
March 24, 2016

Abu Nabil, a.k.a. Wissam Najm Abd Zayd al Zubaydi | Islamic State
Nov. 14, 2015

'Jihadi John' Mohammed Emwazi | Islamic State
Nov. 12, 2015

Muhsin Fadhli | Al Qaeda
July 8, 2015

Ali Awni Harzi | Islamic State
June 15, 2015

Mokhtar Belmokhtar | Al Mourabitoun
June 13, 2015

Adan Garar | Shabab
March 12, 2015

Adam Gadahn | Al Qaeda
Jan. 19, 2015

Hakimullah Mehsud | Pakistani Taliban
Nov. 1, 2013

Maulvi Nazir | Pakistani Taliban
Jan. 2, 2013

Abu Yahya al Libi | Al Qaeda
June 4, 2012

Sakhr Taifi | Al Qaeda
May 29, 2012

Ab­dul-Rah­man Aw­laki and Ibrahim Banna | Al Qaeda
Oct. 14, 2011

An­war Aw­laki | Al Qaeda
Sept. 30, 2011

Atiyah Ab­dul Rah­man | Al Qaeda
Aug. 22, 2011

Ilyas Kashmiri | Al Qaeda
June 3, 2011

Osama bin Laden | Al Qaeda
May 2, 2011
Still, how does that stack up against the hundreds, dozens, several
Let's just look at this past year at all the terruh Donald Trump could have stopped.
On January 7, 2016, in West Philadelphia, in the late evening, a gunman shot Philadelphia police officer Jesse Hartnett, who was driving a marked police car. Hartnett survived, despite being shot multiple times in the left arm. He was able to get out of his car to shoot the fleeing suspect, Edward Archer. Later in the hospital, Archer claimed that he pledged allegiance to ISIS. No innocents killed.
Feb. 11, 2016: Ohio. A suspected Islamic terrorist  attacker injures 4 in machete attack at a restaurant; attacker was shot and killed by police when he attacked police at the end of a car chase. No innocent fatalities.
June 12, 2016: Orlando, FL. 50 killed by apparently self-loathing gay Muslim at a gay nightclub.
August 17, 2016: Tulsa, OK. A lone wolf ran over a woman with a vehicle before killing her son. The suspect was an anti-Arab who had repeatedly insulted and threatened the Lebanese-American family.
August 19, 2016: Olympia, WA: A lone wolf attacked an interracial couple after he saw them together. He injured both of them, before the husband attacked him in self-defense. The perpetrator then stated that he was a white supremacist and a Donald Trump supporter who had recently attacked other people at Black Lives Matter rallies. Nobody killed.
August 20, 2016: Roanoke, VA. A man yelling "allahu akbar" stabbed and severely wounded a couple outside an apartment complex. Nobody killed.
September 1, 2016: Portland, OR, A white supremacist neo-Nazi belonging to a hate organization ran over a black man with his girlfriend, killing him.
September 13, 2016: New York City: A women yelling racist and anti-Islamic phrases attacked a group of Muslims, injuring 4 people. A suspected anti-Islamic attack also resulted in a women's clothing being lit on fire. Nobody killed.
The totals: 20 top level bad guys killed by the Obama administration since 2011. So far in 2016, not counting the destruction of a dumpster and the injuring of 29, only one major terror attack this year in the United States, killing 50 people.
In the meantime, if this is an average year, as of today there have been 24261 drunk driving related deaths in 2016, 12.055 murders, 1,048 people killed by domestic violence, 4,298 killed in accidents caused by texting while driving, and 251,169 deaths caused by use of tobacco.
Sources:
http://www.cdc.gov/nchs/fastats/deaths.htm
http://www.cdc.gov/nchs/data/hus/hus15.pdf#019
http://www.cdc.gov/nchs/data/nvsr/nvsr60/nvsr60_04.pdf
http://www.druglibrary.org/schaffer/library/graphs/graphs.htm
http://www.alcoholalert.com/drunk-driving-statistics.html
http://www.cdc.gov/nchs/fastats/suicide.htm
http://wonder.cdc.gov/wonder/prevguid/m0052833/m0052833.asp
http://www.cdc.gov/motorvehiclesafety/Pedestrian_Safety/factsheet.html
http://www.cdc.gov/HomeandRecreationalSafety/Water-Safety/waterinjuries-factsheet.html
http://www.nfpa.org/categoryList.asp?categoryID=953
http://www.dvrc-or.org/domestic/violence/resources/C61/
http://www.time.com/time/magazine/article/0,9171,1562978,00.html
https://s3.amazonaws.com/s3.documentcloud.org/documents/781687/john-james-a-new-evidence-based-estimate-of.pdf
But Donald Trump will keep you safe from pressure cooker-related terror.
Has your fear been mongered enough yet?