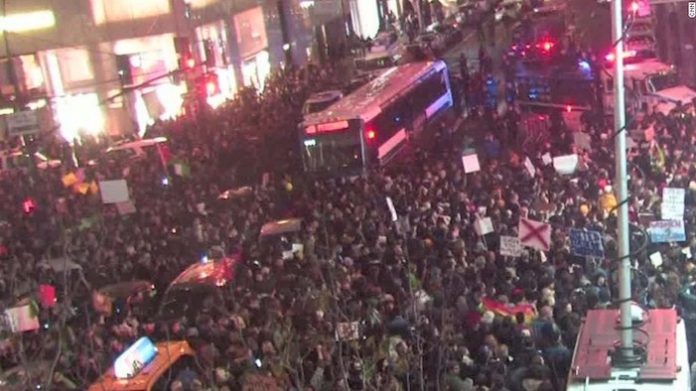 There have been post-election protests before, usually centered around controversies surrounding the way the election was conducted. The 2000 Bush/Gore election for instance. People are still arguing about that today.
Can you recall a time in our recent history when thousands upon thousands of angry Anmericans took to the streets to protest the fact that a certain person now carries the title "President-elect?"
Dallas, Oakland, Boston, Chicago, Portland, Seattle, D.C., California, Philadelphia. The streets were clogged with people chanting, "Not My President."
In Oakland alone, the Police Department said, the crowd grew from about 3,000 people at 7 p.m. to 6,000 an hour later. The situation grew tense late Wednesday, with SFGate.com reporting that a group of protesters had started small fires in the street and broken windows. Police officers in riot gear were called in, and at least one officer was injured, according to other local news reports.

It was the second night of protests there, following unruly demonstrations that led to property damage and left at least one person injured shortly after Mr. Trump's election was announced.

The protests on Wednesday came just hours after Hillary Clinton, in her concession speech, asked supporters to give Mr. Trump a "chance to lead."
Nice words. However people are still too angry, too hurt, too disappointed in the racist, misogynist, nationalist nature of the American voting public to clearly hear what she said.
One of the biggest demonstrations was in Los Angeles, where protesters burned a Trump effigy at City Hall and shut down a section of Highway 101. Law enforcement officials were called out to disperse the hundreds of people who swarmed across the multilane freeway.

In New York, crowds converged at Trump Tower, on Fifth Avenue at 56th Street in Midtown Manhattan, where the president-elect lives.

They chanted "Not our president" and "New York hates Trump" and carried signs that said, among other things, "Dump Trump." Restaurant workers in their uniforms briefly left their posts to cheer on the demonstrators.
This morning, President-Elect Trump and President Obama are meeting in the White House. We hope to have our impressions of how that meeting went later today on "First Amendment Radio."