Mitt Romney's March 2016 speech at the Hinckley Institute of Politics at the University of Utah (in Salt Lake City, Utah) masterfully outlined a case for traditional conservative policies and savaged Donald Trump as a "con man, a fake." Romney appeared confident, poised, and well-equipped to assume the mantle of the sane wing of the Republican party. Romney beseeched his party to avoid Trump at all costs:
"And let me put it very plainly. If we Republicans choose Donald Trump as our nominee, the prospects for a safe and prosperous future are greatly diminished."
For a hot minute there, I believed that Mitt Romney was a dignified man of principle. Of course I should have known that Romney was a spineless corporate lackey, given Romney's pick of mendacious Medicaid/Medicare/Social Security Grinch Paul Ryan as a running mate in 2012. Donald Trump, looking plainly exhausted from his daily three hour (6AM-9 AM) fellating by Joe Scarborough ("Morning Blow"), invited Romney to dinner with automaton Reince Priebus last night. A picture is worth a thousand turds: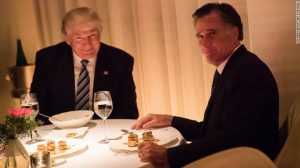 This photo brings to mind the old adage "never trust a man who doesn't drink." Trump is considering Romney for Secretary of State, much to the consternation of campaign manager Kellyanne "Crazypants" Conway. After the dinner, Romney again appeared to be the wooden weakling that we saw on the 2012 campaign trail:
Trump dangled the carrot of power (i.e., the most prestigious cabinet position, Secretary of State) in front of Romney and he bit, even when he knows that Trump is holding the stick.
We can't count on this pussy to save the Republic: