President-elect Donald Trump invited some of his closest friends in the world of what used to be called "journalism" for drinks and off-the record chats.
Mike Allen, lately of Politico, posted this photo on Twitter and can be seen 4th from the left. It's hard to tell who the other so-called "journalists" are, with their eyes glowing white like the "Children of the Damned."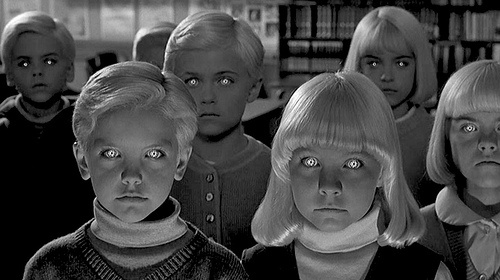 Remember, this President-elect has refused to hold a press conference to answer questions from actual reporters since the Democratic National Convention in July, when he asked the Russians to hack Hillary Clinton's e-mail. These "journalists," like the milk-fed lapdogs they are, hurried to their master's call to have drinks, casual but off the record conversations, and their picture taken with the next President.
Edward R. Murrow, Chet Huntley, David Brinkley and Walter Cronkite are whirling like dervishes in their graves.
The proper journalistic response to such an invitation would be, "Thank you, Mr. Trump. If you will agree to hold a press conference, we will see you there."
And look at that smug, self-assured smile on Trump's face. The game has been fixed. He knows it. He is enjoying the humiliation of these brave nationally-known reporters who don't have the ethics of a small-town weekly newspaper editor.
Shame.