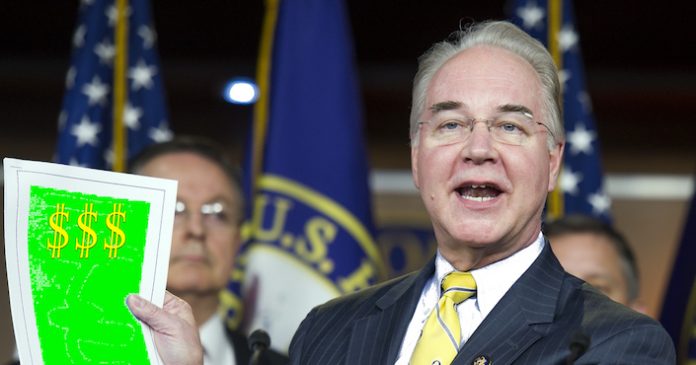 PRICE HAS A PRICE!
You know what's bad? I mean like, "go to jail" bad? Having inside information on a stock not available to the public, then buying that stock before the price goes up.
Even worse? Say a Congressman buys a shit ton of stock in a medical device company, then introduces legislation which would benefit that medical device company, thus raising the price of the stock.
That is apparently what swamp denizen and Health and Human Services Secretary-designate Rep. Tom Price done went and did knowing perfectly well it was illegal. CNN tells it like this:
Rep. Tom Price last year purchased shares in a medical device manufacturer days before introducing legislation that would have directly benefited the company, raising new ethics concerns for President-elect Donald Trump's nominee for Health and Human Services secretary.
Price bought between $1,001 to $15,000 worth of shares last March in Zimmer Biomet, according to House records reviewed by CNN.

Less than a week after the transaction, the Georgia Republican congressman introduced the HIP Act, legislation that would have delayed until 2018 a Centers for Medicare and Medicaid Services (CMS) regulation that industry analysts warned would significantly hurt Zimmer Biomet financially once fully implemented.
And to make matters even sleazier? After introducing the legislation, Zimmer Biomet's PAC donated a nice sum of cash to Congressman Price.
And this is not the first allegation of insider trading made against the man who would be in charge of such vital agencies as the National Institutes of Health, the Centers for Disease Control and Prevention, the Food and Drug Administration and other agencies that would likely be targeted by private medical device makers, Big Pharma, the Health Insurance Industry, and other lobbying groups that would be all too happy to grease Price's palm while the taxpayers remain unlubricated against this sort of Corporate Sodomy.
The new revelation is the latest example of Price trading stock in a healthcare firm at the same time as pursuing legislation that could impact a company's share price. The issue has become a major liability for the congressman after The Wall Street Journal reported last month that he traded roughly $300,000 in shares over the past four years in health companies while pursuing legislation that could impact them.
So, which will happen first… Price's confirmation by the Senate, or a federal indictment?